Los Cristianos Tenerife south by the sea
Sun, beach and the sea...

Until the early 70's, Los Cristianos used to be a small peaceful fishing village with a small port. At that time, the first hotels and holiday resorts were built.
In the meantime, Los Cristianos has grown together with Las Américas. The motto is: sun – beach and the sea.
Nevertheless, many things kept unspoilt, especially part-way the area around the port.
Very beautiful are the promenade, the small streets between the shops, and the pedestrian precinct down to the sea with nice restaurants. Sit in a café or restaurant while enjoying the view of the sea.
There are two beaches that invite you to swim: The Playa de los Cristianos, near the historic town centre and port, and the Playa de las Vistas with a new palm tree park. Here, at the Playa de las Vistas, the holiday-makers can make use of the relaxing and entertaining offers of holidays at the beach, sunbathing, swimming, pedal boat and much more...
Los Cristianos fulfils the expectations of the holiday-makers. Here you find relaxation and calm, but also hustle and bustle. On the one hand you can relax on the beach, and on the other hand you can enjoy the touristic and very hospitable town.
There are also many different and local, but also tourist-friendly, shops, bars, restaurants and discos.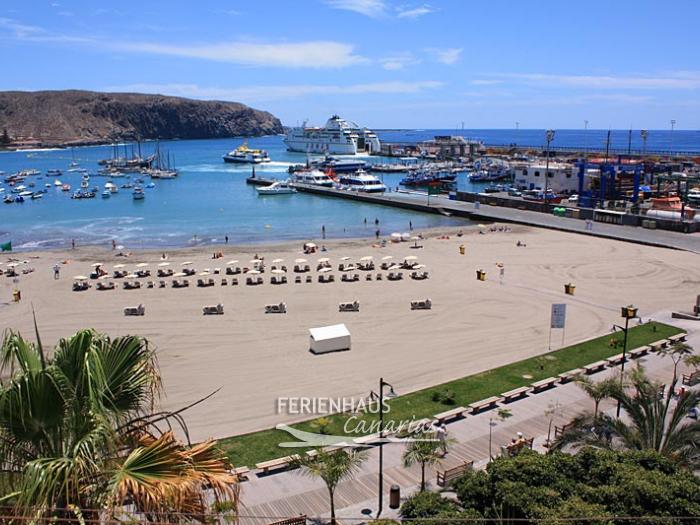 • Activities in the area of Los Cristianos:
- Jogging/walking on the beach promenade
- Nightlife in the discoteques
- Diving, snorkeling - diving schools on site
- Surfsports for surfing, windsurfing and kitesurfing
- Waterski, banana boat, pedal boat, swimming
- Minigolf Parque Santiago with an exotic cactus park
- Dolphin and whale boat trips
- Golf courses Costa Adeje
- Hiking in the canyon Barranco del Infierno/Adeje
- Casino
- Pyramids with Flamengoshow
• Theme parks:

- Siam Park
- Aqua Park
- Cactus Park
Beaches in the area
Playa de los Cristianos
Playa las Vista
Playa Troya
Playa las Americas
Distances