Los Gigantes coastal location on the southwest coast Tenerife
Los Gigantes – on the giant steep coast in the South of Tenerife.

The coastal town on the south-west coast is especially known for its steep coast (Acantilado de los Gigantes). There are huge rock faces (up to 500 metres) falling into the sea. From the plateau you have a breathtaking view. From the sea you have a more spectacular impression of the cliffs.

Quite a lot organizers in Tenerife offer excursions on sailing ships, motor boats or catamarans to Los Gigantes. The tours are often in connection with dolphin and whale watching excursions. These animals live directly off the coast. The boat trips start either in the port of Los Cristianos or directly in Los Gigantes.
In Los Gigantes, on the mountain slopes, there are apartments and holiday houses and most of them are in a very quiet location, due to the fact that the main traffic leads over a bypass.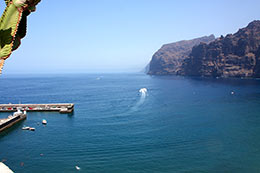 Near the modern yacht port there are many restaurants and shops.
There, they also offer ship trips to the steep rock faces where you can also watch dolphins and whales that live off the coast.
Between the yacht port and the steep rocky coast, there is a small beach.

Directly at the yacht port they built nice, public swimming pool areas.
Playa de la Arena, a beach with dark sand, is surrounded by palm trees and a promenade and can be found in the neighbouring town called Puerto de Santiago.
• Activities in the area of Los Gigantes:
- Sailing, catamarans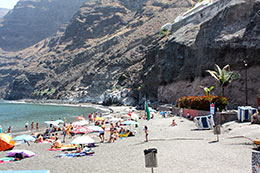 - Diving schools/diving lessons
- Swimming, snorkeling in the bay
- Public sea water bathing pool Piscina el Laguillo next to the harbour
- Kayak tours to Punta Teno
- Hiking into the canyon of Masca or into the Teno mountains
- Water sports like jetski, fishing
- Whale and dolphin boat trips in the harbour of Los Gigantes
• Attractions:
- Los Acantilados de Los Gigantes – crags of Los Gigantes
- Museo del Pescador in Puerto de Santiago (2 km)
Beaches in the area
Playa de Los Gigantes
Playa Puerto Santiago ca 2 km
Distances