Historical Notes - Tenerife and the first settlers
Naming:
Tenerife - the name of the Atlantic island has his origin in the language of the aborigines.
The Guanchens meant with this designation a white mountain. They meant the snow-capped volcano Mount Teide. Certainly, you just can see the image of the powdered-sugar-sprinkled heritage volcano summit only during the colder months. The view over the snow-capped mountain top is breathtaking and wunderful.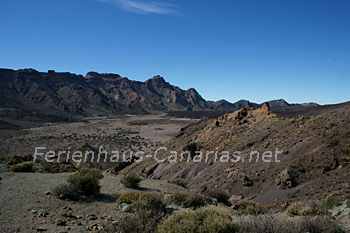 Origins:
Tenerife is the result of millions of years of volcano eruption. The lava of the Mountain Teide grew 7000 m from the Ocean depth until the surface of the water on the Atlantic Ocean. The volcano tower is nearly 4000 m out of the Waters deep and with all the interior of the earth, the Teide embody the Island.
Phoenicians:
The first foreign visitors in Tenerife were the Phoenicians. Thousand years before the era, they do exploratory trips to the Canary archipelagic with their ships and there they unfolded a commercial activity. The phoenicians used mainly therefor the coloring Orchilla lichen. That is why they called Tenerife the purple Island.
The Guanches:
The settlement of Tenerife was done by the Guanches, 500 years after the Phoenicians. They should have been an exceptional base of large, light-skinned human nature, with blue eyes and blonde hair. This peaceable nation which prefered to live in Lava grottoes, stretched from the animal husbandry and with the results of agriculture on small terrace fields, possessed a network of trade relations with North Africa, etc. to the Egyptians. They had profound knowledge in mathematic and astrology, but despite the location of the island they did not sail the ocean. The Norwegian globe-traveller and innovative researcher Thor Heyerdahl explained the theory, that the pyramids in Tenerife were built by the Guanches. They found in the lava caves in Tenerife some relicts from the daily routine of Guanches. The interesting exhibits and some of the mumies of the aborigine can be admired in the historic site museums of Tenerife.