Tenerife beaches
Tenerife's beaches invite you to swim and to sunbathe.
The holiday island of Tenerife offers a fascinating variety of beaches, such as rugged bathing bays, soft sandy beaches, nudist beaches, secluded bathing bays where you rarely meet other tourists, as well as family-friendly beaches.
Especially the beaches in the south of Tenerife are a popular destination for holidays at the seaside. The mild climate, also in winter, as well as the long sandy beaches attract holidaymakers all year round. Nice holiday apartments or houses for holidays at the seaside, are therefore situated directly at the beach all along the south coast or nearby.
Map is loading..
If
no
map
is displayed
,
please enable
JavaScript
.
One of the most popular beaches in Tenerife is the beach Playa Las Américas in the southwest of the island. Here, the sun is shining almost the whole year. Take a stroll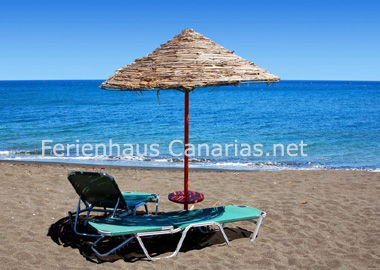 on the promenade and enjoy your beach holidays with a lot of sun. In case you don´t want to rent a car, a holiday apartment close to the beach is recommendable.
In Playa La Arena there is a sandy beach in a bay surrounded by rocks. This beach is known for its cleanliness and the black lava sand has a relieving effect on Athritis. That's why this beach is often visited by tourists with joint pain.
In Los Cristianos there are two beaches with bright sand, which are also ideal for families with children. The beach Playa Los Cristianos is near the port and to the right there is the popular beach Playa de Vista.
The beach Playa del Duque, which is situated to the left of the beach Playa La Caleta, has fine grey sand and a calm sea. The Playa del Duque is a well-kept and popular beach with nice ambience and crystal-clear water.
The fishing village Playa San Juan with its new and child-friendly sandy beach, which is protected by a mole, is very attractive. Fish restaurants provide tasty meals and beautiful holiday apartments offer a marvellous ocean view.
You can enjoy trouble-free holidays at the sandy beach of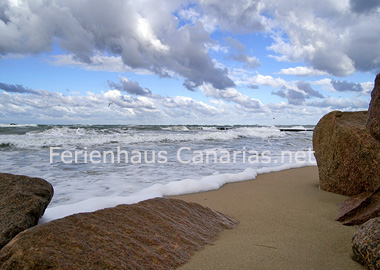 Playa Fañabe. The peaceful sea and a children's playground promise variety. The beach Playa Puerto Güimar is known for its natural beach. The fantastic scenery is very romantic.
The most popular beach is Playa de las Teresitas in San Andres. It is often called a "white beach", but that's wrong, because the sand is actually yellow.
The most beautiful beaches in the north are also promising

The beach Playa Socorro has black sand, is 200 metres long and is an El Dorado for surfers. However, the waves and the current are strong.

Insiders love the beach Playa San Marcos which is in a rocky bay. This beach is situated near a fishing port.

Around Puerto de la Cruz there are some beaches with comfortable calm zones and black sand.
In the extreme north-west of Tenerife, there is the sandy beach called Punta Negra. There are rarely any tourists.

Holiday apartments and holiday houses at the seaside