Holiday on the island Tenerife - an island of two faces
In Tenerife you will find fincas and houses in the middle of beautiful vineyards. Some of these houses are also offered especially for holidaymakers.
Tenerife is the biggest of the Canary Islands with a size of 2.057m². The most popular landmark of Tenerife is the mountain "Pico del Teide". The Pico del Teide is the highest peak in Tenerife and Spain's highest mountain, with a height of 3.718 metres.
The island has about 700.000 inhabitants and was first mentioned by the Roman writer Pilinius. In 25 B.C., the Phoenicians settled the "Happy Islands". Also the famous traveller Alexander von Humboldt once called the valley of Orotava, near Puerto de la Cruz, the world's most beautiful valley.
Today the valley of Orotava is known for its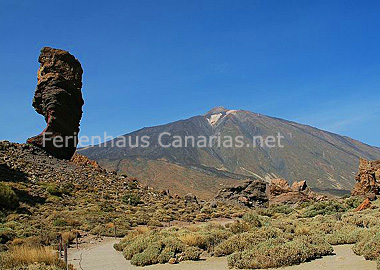 good wines and is also a popular destination in Tenerife. There are fincas and houses in vineyards and some of them can even be rented for holidays.
Due to its location, the island has a mild climate, especially in winter, and about 300 sunny days a year. Many holidaymakers like to spend their winter holidays here on the Canary Islands enjoying the sun.
Tenerife is an island where you can combine many holiday desires. Holidays on this island offers night life in the tourist cities like Playa Las Américas but also tranquility and relaxation away from mass tourism.
Along the coast you can find beautiful sandy beaches which invite you to sunbathe and the water with its pleasant temperatures invites you to swim. In the middle of the island there is the highest mountain of Spain called "Pico del Teide". Sometimes you can even see that the peak of this volcanic mountain is covered with snow.
In the interior of the island there are innumerable hiking routes in the Cañadas, the Anaga or the Teno mountain range, jagged coasts, rocky landscapes, many pine trees and laurels in the Esperanza forest, small idyllic mountain villages, as well as fascinating natural spectacles and wonderful views of the valley and the neighbouring islands.
Tenerife has many faces! Soft beaches, rough cliffs, steep cliffs, forests and valleys, a fantastic underwater world, beautiful golf greens, rare plants, you can explore all this is in Tenerife.