Tenerife golf - the most beautiful courses for your golf holidays
Dreamlike greens attract more and more golfers to the island.
Because of its rough beauty and the mild climate all over the year, Tenerife is already a popular destination. For golfers, however, Tenerife is an El Dorado. Golf in Tenerife is fun and pleasure close to nature, sometimes even with view of the sea or magnificent volcanic rocks.
Very close to Tenerife's capital Santa Cruz, there is a 18 hole golf facility, founded over 70 years ago, with the nice name Real Club de Golf de Tenerife.
Further west, there are two more golf courses, Buenavista Golf and Golf Rosaleda. The latter is appropriate for both beginners and advanced golfers .
On the south-west coast of Tenerife, there is another very exclusive facility. The designer Dave Thomas designed the all in all 160,000 m² large club Abama Golf.
Those who spend their holidays in the south of the island can choose beteween 4 beautiful golf courses: Golf Las Américas, Centro de Golf los Palos, Amarilla Golf and Golf del Sur. Exclusive Royal Garden Villas with 1 to 3 bedrooms for your Tenerife golf holidays, e. g. at the Golf Costa Adeje. Also the precious Sunset Villas in La Caleta are only 10 minutes away on foot from Adeje green. International golf tournaments are held at Golf Adeje.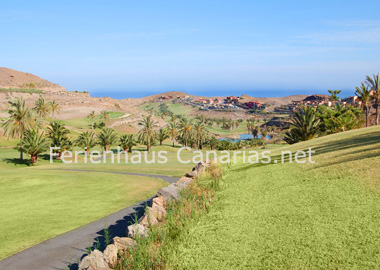 Here is also much offered, concerning golf training. Individual instruction with personal trainer or group courses, golf school or academy, there are many possibilities to improve your handicap. Professional golf teachers and interesting courses are everywhere to be found. For further information there are also useful golf guides for golf holidaymakers with information about golf courses.
In Tenerife, you can enjoy playing golf all over the year and the beautiful architecture of the golf courses. From beginner to professional – everybody will find his ideal golf course.
We recommend a luxury finca with golf putting green, where you can practice for free, no matter if you are a beginner or want to improve your handicap. Moreover, the finca offers reasonably priced apartments, comfortable holiday houses, pool, indoor pool, spa, oasis, tennis court as well as a Bedouin tent.