Surfing, kiting and windsurfing
Windsurfing, kiting and surfing on Tenerife – Mecca of aquatics!
Spending your holiday only with monotonous sun bathing or sightseeing, isn´t an option for sports fans. Not a single day goes by without looking for spots to conquer the waves with a board, a sail or whatever it takes. No matter if it is surfing or windsurfing and kiting - everything is, depending on skills, possible throughout all the year on Tenerife. Once the wind and wave question is answered, there are sufficient spots all around the Canaric Island.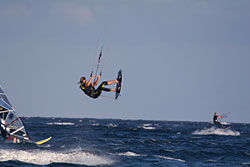 Two elements and countless sportive options
El Médano certainly is the surf and kite mecca on Tenerife for holidaymakers, locals, beginners and pros. The Windsurf World Cups are held every year in El Médano. The best windsurfers from all over the world are attending the event.

Also in the southwest between Los Gigantes and Los Cristianos - especially near Las Américas and Punta Blanca - the elements present themselves relentlessly fascinating to fans of windsurfing and kiting. Along the northwest coast between Punta de Teno and Punta del Hidalgo surfing on Tenerife is an absolutely amazing experience.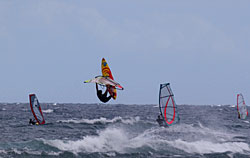 More to experience!
A mild climate and constantly flowing waves dominate the region, that causes excitement among casual athletics and semi professionals. Not only the European surfing elite knows to use Tenerife for the perfect thrill in surfing. Going to the beach of El Socorro means that the holidaymaker is on the safe side. The most beautiful spots are spread between Santa Cruz, Garachico, Los Realejos, Arona, Guia de Isora, La Orotava, La Laguna and Puerto de la Cruz.