Fishing, holidays, watching the sea and enjoying the silence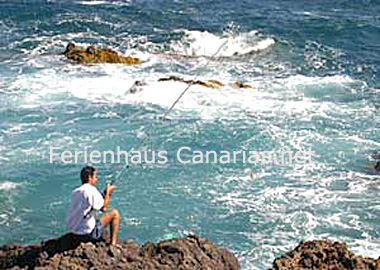 Tenerife is a paradise for fishermen!
Tenerife is a paradise for fishermen. Of course, in Tenerife you fish exclusively in the sea. Normally, the fishermen are sitting on the pier or on a rock with their fishing rods.
But there are not only locals. Also holiday-makers get themselves a fishing rod (some bring their own with them) and enjoy the fascination of fishing here uncomplicatedly. Take out your fishing rod, look for a nice place - here we go! That makes the fisherman's heart beat faster.
Fishermen looking for the perfect holiday destination for the whole family should come to Tenerife. Fishing while spending time with your familiy is possible in so many ways, e. g. by renting a ship or spending a day at the beach. The children play in the sand and the wife enjoys the sun while the men live their passion for fishing. You can spend such a day e. g. at the beaches of Los Gigantes, Playa San Juan, Los Roques, El Médano, Playa Tejita and Playa Abades, to name only a few in the south.
The sea in the north of Tenerife is a bit rougher, but also here, in many coastal towns, you can see fishermen sitting on the pier in the evening.
The best fishing lures are natural ones, e. g. mackerel stripes, mashed sardines with dough, pieces of squids and crustaceans. You should also find out about protected species, as there are always added new ones. If you catch a fish of a protected species, you may pay a huge fine.
For the first few days on the island, it is worth taking a guide who shows you everything and maybe mentions a few special places. Another possibility is to ask locals. Especially local fishermen are happy when you are interested, even if you don't speak spanish - you can talk with gestures.
If you decide to rent a boat, you should make sure that you have an appropriate fishing rod at your disposal, as some fishes, e. g. tuna, weigh more than smaller ones. It may also happen, that you catch a small shark on the open sea.
It is worth fishing at night, too, as some fishes come to the boats, baited by the remainung lures. Furthermore, you should inform yourself about additional offers, as on some boats you can only get drinks and no food.
All in all, Tenerife is a wonderful holiday destination, as the whole family will be satisfied. If you have a holiday apartment directly at the sea for example, you can look for a good place to go fishing by foot. But also fincas are suitable for relaxing holidays. Normally, there is a barbecue on a finca, so you can relax and have a barbecue in the evening by the fire after successful fishing.
Interesting for those who want to rent a boat is, that the fastest fish can reach a speed of 56km/h under water. That is the Mako Shark. If you like to eat fish after fishing, you can go to one of the innumerous fishing restaurants. Alltogether, Tenerife is known as an El Dorado for hobby and professional fishermen, as there are more than 500 fish species.
Our tip: Don't forget your sun creme!!! It is indispensable, especially when you spend a long day on the boat or the beach.