El Médano Tenerife the sea
El Médano - spanish "the sand dune" - Tenerife's city for bathing, surfing and kiting

El Médano is situated on the south coast of Tenerife in the municipality of Granadilla de Abona. Los Cristianos is 15 km away and Santa Cruz ca. 60 km.

The town is still unspoilt, almost all the inhabitants are locals and there is not much tourism. Around the small port and the sandy beach, which is directly connected to the biggest and longest natural sandy beach of the island, there are various restaurants and shops.
A plaza and the nice promenade invite you to go for a stroll. The beach slopes down gently towards the sea, so that it is also suitable for children.

There are water rescue, showers and sun loungers on the beach. Furthermore, in 2006, El Médano was awarded the blue flag for special cleanness of the beach and for the water quality.

El Médano is to be recommended, if you want to spend quiet, relaxing holidays, away from mass tourism.
The town of El Médano is one of the best areas for kiting and surfing, owing to the wind, which is perfect for these kinds of water sport.
Behind the mountain Montaña Roja (red mountain), which is under conservation, lies La Tejita beach, partly a nudist beach.

Several golf courses in the south can be reached within only a few minutes by car.
A sight is the cave with a shrine near El Médano, the cave of Santo Hermano Pedro, where the only Central American saint, "Hermano Pedro" (1626-1667), born in Vilaflor, spend some time as a hermit.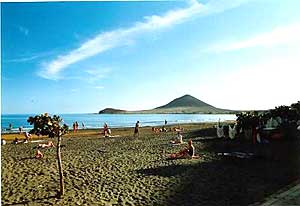 • Activities in the area of El Médano:
- Kitesurfingwindsurfing – surf schools on site
- Naturism beach
- Swimming
- Snorkeling/diving – diving schools on site
- Golf
- Hiking



Beaches in the area
Playa Medano
Playa Chica
Playa Tejita
Playa La Tejita FKK Strand
Distances