Tenerife - Anaga mountains
The Anaga mountains (spanish: Macizo de Anaga) lie in the north-east of Tenerife. From west to east it's 20 km long and from north to south it's 5 to 10 km broad. 7 to 9 million years ago, the mountains were formed by volcanic activity. The highest points are Cruz de Taborno with 1024 m of height in the west and Chinobre with 909 m in the east. The ridge of the massif, being the most humid region of the island because of fog and rain, is overgrown with laurel forest.
In 1987, a nature park was founded and put under special protection as Parque Rural de Anaga in 1994. The biggest town in the Anaga mountains with arounnd 700 inhabitants is the fishing town Taganana, lying in a broad valley at the bottom of the mountains and directly on the Atlantic Coast.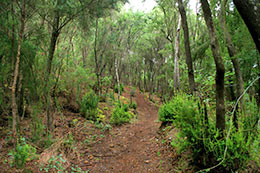 Typical for the Anaga mountains are the residential caves in the volcanic rock. The façades and the interior decor of these caves are similar to those of local detached familiy houses. This you can see for example in Afur and Chinamada.
Hikes and explorations of the island:
The Anaga mountains are accessible by a street along the ridge. From this street, numerous hiking trails and woodland paths, on which you can reach several viewpoints and all parts of the forest, branch off. The Anaga mountains are popular with hikers and nature lovers. A spectacle of nature is the several meters high surf along the steep and rocky north coast. Well-trodden places, where many fotos are taken, are the rocks near Almáciga, especially the Roque de Anaga and the Roque Bermejo. The Roque de Anaga is the most northern point of the island of Tenerife. (Info from wikipedia.de)
The part of the Anaga mountains in the north-east is the part of the island that is still very isolated. Because of its distinctive form, it looks like a humpbacked monster sticking up out of the water. Here you can find small mountain villages that are not accessible by streets yet. Many idyllic but also dangerous hiking trails lead alongside streams and ravinses. Very often, you can also see a herd of goats looking for food. For hiking holidays in this region we can recommend a finca with pool, 2 apartments and a holiday house in Valle Guerra or on the south side of the Anaga mountains for example a private holiday house in Igueste.
Distances