Buenavista del Norte in the green north
Below the Teno mountain range, in the north-west of the island, there is the town of Buenavista del Norte. Puerto de la Cruz is ca. 40 km away.
Surrounded by banana plantations, a quiet and relaxing stay is possible here, far away from mass tourism.
The small town with its restored, Canary houses around the plaza invites you to go for a stroll or to relax. On Playa de las Arenas, the nearest beach section, there are small, natural pools of lava rock. Sometimes, it's not possible to go for a long swim there, due to the strong surf. In spite of this, it's always ideal to refresh yourself.
Those who want to go for a long swim should go to the seawater swimming pool "Piscina Municipal" with fitness room, sauna and cafeteria, directly at the seaside, on the promenade.
Below Buenavista (1,8 km) is the 18-whole golf course with cafeteria, lookout terrace, golf lessons and pro-shop.
Buenavista is a perfect starting point for hikes in the Teno mountain range.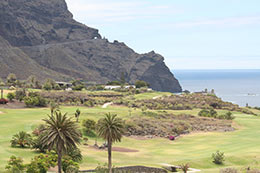 • Activities in the area of Buenavista del Norte:
- Golf course Buenavista Golf Isla Baja with golf school
- Open-air bath
- Fishing, snorkeling, diving, swimming and kayak trips at the beach
- Trails to the Teno mountains
- Sea water bathing pool Piscina Municipal
- Fitness room in the Piscina Municipal

• Attractions:
- View point Mirador de Don Pompeyo
- Lighthouse Faro de Teno
Beaches in the area
Playa La Arenas ca 3 Km
beheiztes Freibad ca 3 Km
Distances