Vilaflor - The legend of Vilaflor
The name of this village at the southern slope of the Teide derives from an old tale.In poetry it is described how a man discovered a breath-taking flower. He shouted "Vi la flor". In english that means: "I saw a flower". With that, by no means, the man meant a flower, but a beautiful native woman taking a walk in the area of todays Vilaflor.
Geography:
Vilaflor is the highest by man established settlement on the entire canarc archipelago. Almost 2.000 people live in this 1.400m high village. The clear, maritime climate and air is an inside-tipp for people with respiratory diseases. The symptoms are a considerably reduced compared to mainland Europe, due to the very clear air.
Pine forests in Vilaflor:
Vilaflor is not just famous because of its name deriving legend and its good climate conditions. The surrounding pine woods are fascinating as well. A lot of plants growing in these forests make nature seem to blossom even more. During the spring Vilaflor offers amazing carpet like fields of colourful blooming wild flowers.
They grow near the primeval forests full of gigantic pine trees. These trees can reach a stem diameter of more than 3 metres and can grow to a height exceeding 40 metres. Therefore, these trees are the highest trees on all the Canary Islands. One tree, the Pino Gordo, has stem diameter of 11 metres and is the biggest tree here. He can be observed right next to a view point which invites guests to enjoy the view.

Highlights of Vilaflor:
There are not only great things to see in Vilaflor. Due to the mountain sun, the pine trees, the laurel-, eucalyptus-, and peppertrees smell in a very unique way, which cannot be experienced like that anywhere else. The local mineral water is said to have healing effects. Souvenirs can be found at the local artist market. Here can puchase embroideries, carved wood artefacts and hard-to-choose-from wines of the area - quite a hard choice.
After all these experiences the next beach is only 20km by car away. In the area is also a golfcourse, as well as great hiking opportunities. The are offers to explore the volcano crater, the rock pillars and the moon-like-landscape by foot, with a mountainbike oder by using a paraglider.
In this place, spoiled by the beauty of the nature, El Hermano Pedro de Betancur was born. He lived in the 17th century and was the only person in Central America, who was canonized by the Pope Johannes Paul II. In his honour, the people celebrate once a year in Vilaflor.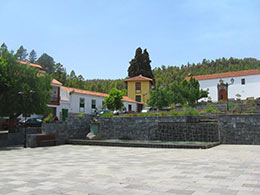 • Activities in the area of Vilaflor:
- Hiking
- Mountainbiking
- Paragliding
- Sailing, diving, fishing and boat trips in San Miguel
- Kitesurfing and windsurfing at the beach of El Médano
• Attractions:
- The island's biggest pine
- View point Mirador del Pino
- Montaña de Chasna
- Castillo San Miguel: Knight's castle in San Miguel
Distances