Garachico Tenerife North on the sea coast
Garachico - risen from fire and lava
On an almost round spit of land of the north coast lies the impressive town of Garachico. The town was built on dry lava, which had completely destroyed the old Garachico and its port at the beginning of the 17th century. Now, the white houses with their red roofs at the bottom of the steep Teide massif are a magnificent sight. In the charming old town, there are several churches, a wonderful church square and museums, as well as typical restaurants you can visit. Off the coast, there lies the Roque de Garachico like a tower of strength. Small, natural pools, shaped by lava, invite you to go swimming. The promenade stretches along the whole town.
Garachico lies in the north-west of the Canary Island and is rather a village with its 5,700 inhabitants.
In 1645, a row of strokes of fate began that had their effects on the village. The first catastrophy was a storm tide that scuttled 40 ships and was the death of many people.
In 1666, there where riots against the English, due to the poverty among the locals.
In 1697, a conflagration destroyed more than 100 houses.
The 5th May of 1706 was the peak of the fateful years, when the Montaña del Estrecho (Volcán Garachico), lying above the town, erupted, burrying many houses and the majority of the port.
Today, the village has long since recovered and is full of nice white houses. The port, however, was moved to La Orotava afterwards, i.e. to today's Puerto de La Cruz.
jedoch wurde danach nach La Orotava, sprich ins heutige Puerto de La Cruz verlegt.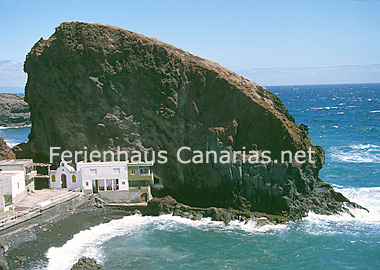 • Activities in the area of Garachico:
- Swimming, snorkeling
- Hiking tours

• Attractions:
- Castillo (castle) at the coast with arising museum
- Convento de San Francisco
- Iglesia de Santa Ana
- Casa de la Cultura
Beaches in the area
Meerwasserbecken Los Charcos del Caleton
Sandstrand Playa San Marco ca 10 km
Playa de las Aguas
Distances