La Orotava - breathtaking Orotava Valley on the northwest coast
Historic municipality in the North of Tenerife
The town La Orotava is located in the north-west coast in the attractive Orotava valley and is only a few kilometres away from Puerto de la Cruz.
The landscape is characterized by wine-growing areas and banana plantations.
The city is divided into 2 parts, Villa and Farrobo.
Both parts are listed since 2005, because of their special cultural importance.
The city is characterized by beautiful wooden balconies, courtyards covered with greenery and historic buildings. Behind the town hall there is a botanical garden with walks.
The Feast of Corpus Christi, which is celebrated always one week later in La Orotava than elsewhere, is a special event.
On this day, in front of the town hall, magnificent carpets (in Spanish: alfombras) are made from lava sand and flowers.
In the evening, a parade moves through the partly steep streets.
The town of El Rincón belongs to the municipality La Orotava and there is also the beautiful beach with the same name.
Other beaches of this municipality are: Playa Bullullo, Playa Jardín and Martin Alsonso. The golf course "Golf Rosaleda" is only 5 minutes away from Puerto de la Cruz.
The municipal area La Orotava is about 390m above sea level. The municipality itself extends from the north-west coast, north of Puerto de la Cruz, to the interior towards the Pico del Teide. La Orotava measures 206,78km² and is thus the largest of the 30 municipalities of Tenerife.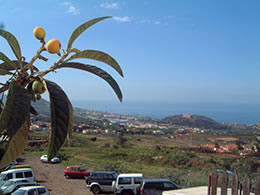 • Activities in the area of La Orotava:
- Hiking through the valley
• Attractions:
- Palacio Municipal
- Botanic garden
- Museum House of balconies - Casa de Los Balcones
- Parque Quinta Roja with mausoleum
- Ibero-American museum – Museo Iberoamericano de Artesanía de Santo Domingo
- Ceramic museum - Museo de Cerámica Casa Tafuriaste
- Carpet museum - Casa de las Alfombras
Beaches in the area
Playa Martin Alonso
Playa El Bullullo
Playa El Rincón.
Distances