Puerto de la Cruz - vacation paradise Puerto Cruz in the green north of Tenerife
Puerto de la Cruz – a historical city, in the green North of Tenerife

This holiday destination is in the north of the island, in the Orotava valley. The landscape is green because of the warm and humid climate. Despite the touristic development, Puerto de la Cruz kept its own charm. Besides many restaurants, bars and cafés, there are houses and buildings in Canarian style, nice parks, swimming complexes and promenades.
In 2006, the government designated the town centre and some buildings in the surroundings as places of cultural importance. The city centre with many churches, squares, parks and historical buildings is worth a tour.
The huge swimming complex, surrounded by a promenade and created by the architect César Manrique from Lanzarote, is unique.
In La Paz, a part of the town, there is the Botanical Garden with over 200 types of plants and trees.
A popular destination is the Loro Park. The park, in the west of the city, has over 200 parrot species and you can watch sea lions, orcas and dolphins in shows. There are also enclosures for crocodiles, the tiger island, an orchid house and the biggest penguin park of the world.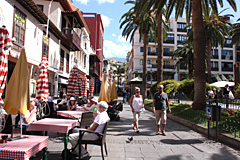 The artificial beaches, such as the sandy Playa Jardín or the Playa de Martiánez, are an alternative to the natural beaches which are often too dangerous for swimming, because of the strong surf.

The golf course Golf Rosaleda, north of Puerto de la Cruz is only a few minutes drive away.
Due to the fact that it is favourably located in the Orotava valley and near the Teide National Park, the town is a good starting point for hikers.
In the district La Paz there is the botanic garden with more than 200 species of plants and trees.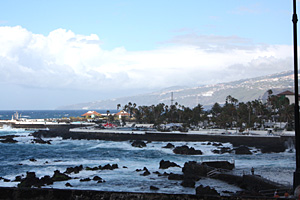 • Activities in the area of Puerto de la Cruz:
- Surfing, snorkeling
- Casino
- Sea water swimming pools
- Hikes to Los Realejos
- Clubs und discos

• Theme parks:
- Loro Parque

• Attractions:
- Botanic garden
- Taoro Parque
- Casa de la Real Aduana
- Castillo San Felipe
- Chapel San Telmo
- Iglesia San Francisco
- Iglesia de Nuestra Señora de la Peña de Francia

Beaches in the area
Playa Punta Brava
Playa El Charcon
Playa El Castillo
Distances