A hiking tour to "Paisaje Lunar"
The white lunar landscape near Vilaflor in the south of Tenerife
The hike "Paisaje Lunar" which is also called "Lunar landscape" is an easy and fantastic walking tour (about 4 hours) in the pine tree forest in the south of Tenerife.

The hike to the lunar landscape Paisaje Lunar starts near Vilaflor, and there are 2 possibilities how to start the route. If you are on the way very early, you have a good chance of getting a parking place above Vilaflor at the milestone TF66. There are, however, only few parking spaces, because it's just a small lay-by. From here you hike on a broad forest path for about 50 to 60 minutes, until you get to the point, where a marked path (from bottom right) meets your trail. Here, a path goes uphill to the left.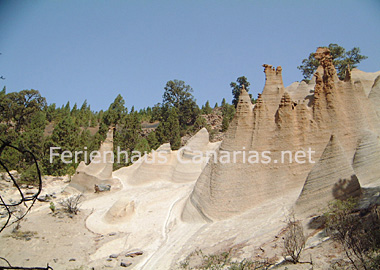 *At this crossroad turn to the left and go uphill.
The best thing is to follow the signs.
While you go uphill, you can enjoy wonderful views of the surrounding mountains. There are wooden stakes with white and yellow stripes which show you the way. The path itself is edged with stones. During the hike you can smell the scent of the pine trees. The broad path turns into a narrow one, below the Guajara mountain. After about one hour, maybe a bit more, you reach the impressive lunar landscape "Paisaje Lunar". Here you can see the white tuff pillars sanded down by all weathers. The contrast of the light tuff, the pine trees and the blue sky is marvellous. At the viewpoint, there are seating possibilities to have a break and to enjoy the fantastic landscape.

The way back is also signposted. On the way, you go past disintegrated stone houses. As soon as you have reached the broad path again, keep to the right until you get to your car.

In the case that you don't get a parking place at the milestone TF66, you can park directly in Vilaflor, for example near the church. You can start hiking from the town. Keep to the right, walk past the green reservoir and always upwards into the forest. If you take this possibility to start the route, it takes about 60 minutes until you reach the crossroad. From here you can continue as described in part *.

Note: The Paisaje Lunar is one of Tenerife's precious landscapes, which needs to be protected. Please respect that and don't leave the hiking path to discover old tracks. The government put up corresponding boards. In order to enjoy the beautiful landscape, there are seating possibilities at the viewpoint and you can also take pictures.

Useful telephone numbers:
Tourist office Tenerife 922 239 811 / 922 239 592

Further information
Location: above Vilaflor
Starting point: at the milestone TF 66 or in Vilaflor
End: circular hiking tour
Duration: about 4 hours
Level of difficulty: easy