Wonderful beaches - Tenerife North
The north of Tenerife convinces with many marvellous beaches with fine sand! The refreshing climate of the Atlantic Ocean contributes to relaxtion and offers a lot of fun. Furthermore, especially the beaches in the north of Tenerife are very good for a visit of the nearby cities. Their maritime, international flair, the hospitality of the inhabitants and the interesting museums and art galleries are certanly going to enthral you!
Sea water pools in Tenerife North:
The marvellous sea water swimming pools of Bajamar and Punta de Hidalgo are considered attractions in Tenerife North. The large pools are filled with the fresh sea water of the Atlantic Ocean. In addition there are delightful, natural beaches nearby.
Romantic Beach Playa San Marcos in Tenerife North:
Playa San Marcos is a wonderful beach in the north of Tenerife, which tourists hardly know. This beach with black lava sand is sheltered by a cliff bay.
Your children can play there free of care, because rescue workers are on the spot. Sun loungers and sunshades are available. The beautiful promenade with small shops invites to relax and has many culinary suprises in store.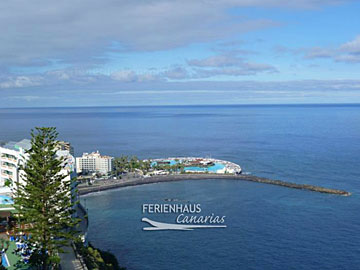 Thunderous surf on the beautiful beach Playa del Bollullo in the north of Tenerife:
Near Puerto de la Cruz - sheltered by a cliff bay - there is the beach of Bollullo. This calm bay is an insiders' tip and is said to be the most beautiful bay near the island's capital. It's close to the surfer beach Playa El Socorro, where you can meet surfers from all over the world.
Artificial beach Playa Jardin in Tenerife North:
The beach with black sand of Playa Jardin near Puerto de la Cruz in the north of Tenerife is surrounded by a cliff. Protected by a breakwater, close to the fantastic garden landscape with the work of art by the world-famous Canarian artist Manrique, you will spend wonderful holidays.

Tip for holidays: find an apartment at the north coast