Beaches Tenerife South - Beach feeling at the south coast of Tenerife
All year round, the sun shines above the south of Tenerife. Clear water in all shades of blue - perfect for snorkelling and swimming. Near the beaches, there are many restaurants following traditional recipes which attract visitors from all over the world. An insiders' tip after an eventful day is to stay in one of the original beach restaurants. Here you can drink national wines while enjoying the sunset.
Bright natural beach Playa El Médano in Tenerife South:
Just as Playa el Duque in Fañabé in the south of Tenerife, the beach of El Médano is a bright natural beach. It offers ideal conditions for surfing, swimming and diving. The beach Playa Paraíso is similar with its numerous possibilities of doing sports, e. g. table tennis, darts or beachball.
Insiders' tips in Tenerife South:
A lot of sandy beaches in the south of Tenerife are especially known by insiders. There are a lot of almost deserted beaches in Tenerife for example the beach of Ensenada Pelade and Playa La Tejita. There is also a quiet beach in Playa San Juan. The beach Playa de las Gaviotas in the south of Tenerife is recommendable for nudists.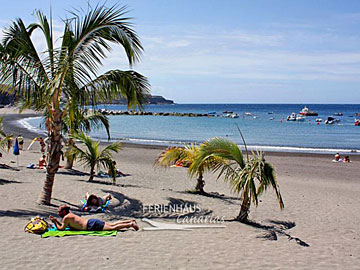 Golden beach Playa de las Teresitas:
The beach near Santa Cruz "Las Teresitas" in San Andres with yellow sand has a length of 1.5 km. It's protected by breakwaters and has a lot of comfort. Here you can spend a whole day on the beach and relax at a bar after.
Well-tended beach of Playa de la Arena in the south of Tenerife
The beautiful sandy beach Playa de la Arena is considered to be one of the most beautiful parts of the south coast, among others, because it's very well-tended. The beach is surrounded by a cliff bay and has been awarded the blue flag by the EU. At the promenades with many restaurants and on the beaches of Playa de las Américas and Los Cristianos, there are holiday-makers from all over the world. There are bars, discos and restaurants at the 15 km promenade of Los Cristianos. For party animals, it's a must.