Playa las Americas - Beach and the sun metropolis of Tenerife
International beach life.
The beach Playa de las Americas is right in the same called place at the sunny southwest coast of Tenerife. The beach Playa de las Americas consists of several segments, e.g. Playa de Troya and Playa del Camisón.
The beaches
The beaches extend over several, very long and artificial bays. You can relax on the bright sand on the beach of Las Americas with its decent profile and will almost notice nothing of the tourist hustle. To find a parking place can be quite tricky.

Suitability for children
Most of the beaches gradually reach into the sea, but there are some segments (e.g. Playa de Camisón) where you will encounter high waves and stronger currents.

Watersports
Jetskies, diving, windsurfing. Many boat trips are offered along the beach. Even whale or dolphin-watching, a pirateship cruise or a journey to the ground of the ocean with a yellow submarine are available here.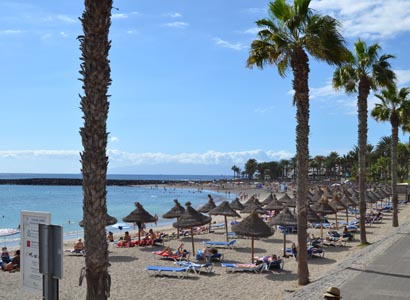 Restaurants
Along the 10-mile long promenade you will find a huge amount of different shops, restaurants and bars of all kinds. Of course, a beach bar is open for business, which you will find directly on the beach, close to the harbour of Playa las Americas. The bar is also open late in the evening (nicely illuminated!) and you will be able to enjoy delicious cocktails under a thatched roof and between torches right at the sea.
If you like to dine in a very special place, we can recommend you the following:
"El Molino Blanco" (white mill) in San Eugenio Alto: An old windmill in the front garden, thick wooden beams inside, several little terraces. Very fine ambience combined with farmhouse style, candle light and quite music. On the menu you will find fine delicacies of the Canary Islands.

"El Patio" with a fine international cuisine at the inner courtyard of the Jardin-Tropical hotel. Enjoy a romantic evening next to the splashing fountain with high rubber trees, amphoras and tarpaulines as protection from the wind - simply wonderful!

The town of Las Americas
Only a few miles from Los Cristianos, in the southwest of Tenerife, you find the tourism centre Las Americas within the municipality of Adeje. It is a steadily growing tourism town with uncountable hotels and holiday complexes which reaches out up to Costa Adeje.
There are shopping-centres, large restaurants, shops of any kind, nightclubs and above all: beach life and sun all the time. The reasons for this development in the past are simple: The wheather is always warm und sunny - and today you will find any kind of accomodation, from very simple ones up to 5-star luxury hotels. One has to mention, that the more sophisticated hotels and holiday parks are commonly to be found at Costa Adeje.
Further beaches in vicinity:
Distances