Playa del Camisón - Sandy beach at Santiago III in las Américas
The fine golden-yellow beach Playa del Camisón is right below the luxury hotel Mediterranean Palace and the Parque Santiago III in Las Américas.

The beach
The crescent beach gently drops into the sea and is also accessible for disabled guests. There are rentals for sun loungers, sun shades and even life-guards are on-location. You can reach Playa del Camisón with your rental-car as parking is close by. Locals, as well as holiday makers, appreciate this relaxing beach and like to spend an entertaining day at the beach here.
Suitability for children
The waves at Playa del Camisón can be described as rather strong. Therefore the sea is not calm all the time.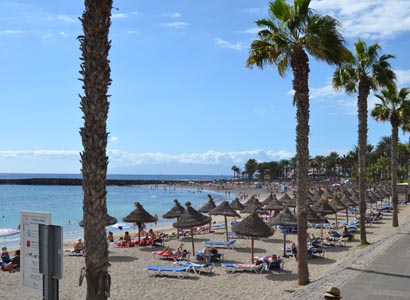 Watersports
You can rent pedal-boats and jet skies here.

Restaurants
Restaurants and beach bars
The town of Playa de las Americas
Only a few miles from Los Cristianos, in the southwest of Tenerife, you find the tourism centre Las Americas within the municipality of Adeje. It is a steadily growing tourism town with uncountable hotels and holiday complexes which reaches out up to Costa Adeje.
There are shopping-centres, large restaurants, shops of any kind, nightclubs and above all: beach life and sun all the time. The reasons for this development in the past are simple: the wheather is always warm und sunny - and today you will find any kind of accommodation, from very simple ones up to 5-star luxury hotels. One has to mention, that the more sophisticated hotels and holiday parks are commonly to be found at Costa Adeje.
Further beaches in vicinity:
Distances