Punta del Hidalgo on Teneriffe
Punta del Hidalgo and the rock formation called Los Hermanos
Punta del Hidalgo is situated in the extreme north of Tenerife, at the edge of the Anaga mountain range, directly on the sea.
The university town of La Laguna is about 15km away.
The former fishing village turned into a holiday region with several hotel complexes. Nevertheless, the town remained quiet and idyllic.
There are restaurants (many very good seafood restaurants), some bars and shops.
On the rocky coast, they built swimming pools with sea water.
There are different viewpoints that offer breathtaking views of the sea and the Anaga mountains.
The rock formation Los Hermanos (the brothers), at the edge of the Anaga mountain range, is the landmark of the town.
There is a footpath which leads directly from the town to the cave village of Chinamada, where some people are still living in caves, which have been converted into comfortable apartments during the last few years. Punta del Hidalgo is a holiday resort for fishermen, hikers and people who want to relax.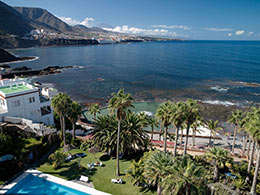 • Activities in the area of Punto del Hidalgo:
- Hiking
- Surfing
- Discoteques
- Sea water bathing pools
- Trip to San Cristobal de la Laguna (about 30 min. by car)
• Attractions:
- View point "San Mateo"
Beaches in the area
Naturwasserschwimmbecken vor Ort
Strand in Bajamar ca 3km
Distances