Punta de Hidalgo - seawater pool
Punta de Hidalgo is in the northeast of Tenerife in the municipality of La Laguna de Cristobal. It is a wild coast with roaring breakers.
The beach
There is no beach in Punta de Hidalgo - it is simply too dangerous to bath and swim in the open sea here. So Punta de Hidalgo, a natural seawater pool, was created for the locals and tourists. Via ladders you can reach the pool area and the pool continiously filles itself with fresh seawater.
Suitability for Children
Not recommended for smaller children.
Watersports
none

Restaurants
There are some restaurants opposite to the sea.

Punta de Hidalgo
Here you prabable find the most amazing view pint onto the raging waves of the Atlantic ocean. The crash into the rocks, several meters high and even shatter the stone formations. Almost like a peninsula this place reaches into the sea.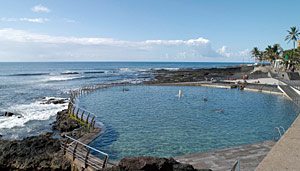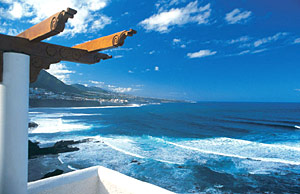 Mostly elder guests spend their holidays in the hotels and apartments in the area. Punta de Hidalgo is a calm, idyllic holiday resort which has kept its original charme. Here you will also find the only intergral hotel, the Medical Spa Hotel Oceano, which offers all kinds of wellness, several therapies and the F.X. Mayr course of treatment.
Besides the fantastic climate, hiking possibilities along the "Dos Hermanos", wellness and bathing in the calm environment is mandatory.
Further beaches in vicinity:
Distances