Alcala Fishing spot Alcala Tenerife South
One of the most beautiful fishing towns in the south of Tenerife
The quiet fishing town of Alcalá, ca. 6 km before Los Gigantes, lies in the municipality of Guía de Isora and is one of the most beautiful fishing towns on the south coast of Tenerife.
Before the start of the town, you still see the lava fields caused by the former volcanic activity having formed the landscape in a bizarre way. In the centre of the island, there are densely wooded mountain landscapes with pines or laurel forests. On the coast, more and more holiday-makers are attracted to Tenerife by long bathing beaches.
Originally, the inhabitants of Alcalá and the whole municipality lived off fishing and growing of vegetables, e. g. potatoes, bananas etc.
Even today, you can see huge banana plantations in this region, extending till down to the sea.
The climate in this region is equable. There is an average of 18°C in winter and 28°C in summer. Alcalá lies, like the neighbouring towns, too, in a favourable location, as far as the climate is concerned – i. e. in the warmest region of Tenerife. That's why we talk about a healthy climate here.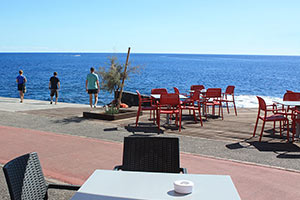 Far away from mass tourism, Alcalá could keep its tipical romantic in the town centre. There are only one hotel and 3 holiday apartments on the outskirts of Alcalá. The hotel consists of several flat buildings integrated into the landscape so that it doesn't bother nobody.
Some fshing boats anchor in the small harbour on the lava coast. Close to this, there is a diving school. Near the town square, you can find natural bathing bays, as well as idyllic places to relax.
Once a year, in the week around the august 15, Alcalá becomes the centre of attention of Tenerife. During this week, there is fiesta with music on the Plaza every day. The highlight of the fiesta taking place in honour of "Nuestra Señora de Candelaria" is on august 15. This day, there is a gigantic firework.
• Activities in the area of Alcalá:
-Excursions by ship, boat and catamarans
- Dolphin and whale trips in Los Gigantes
- Jetski, diving, swimming and snorkeling in Los Gigantes
- Diving schools at Playa de San Juan
- Surf school Club de Surf Punta Blanca in Puerto de Santiago
- Fitness center and football club at Playa La Arena
- Wellness center Origin Day Spa in Puerto de Santiago
- Hiking in the Teide national park or in pine forests in Guía de Isora
- Museum Museo del Pescador in Puerto de Santiago

Beaches in the area
Distances