Playa Abama Beach - South-West Coast of Tenerife
Playa Abama is situated in the middle of banana plantations and was designed by the luxury hotel "Abama". Although it is a hotel beach, the beach is open and accessible to all visitors (like all beaches in Spain, which are not allowed to be private property according to law). Playa Abama Beach is situated on the coast of Guia de Isora shortly before Playa San Juan.

The Beach
The beach Playa Abama with its almost white sand is considered as the most beautiful beach on Tenerife. The 150m long and approx. 30m wide bay is sheltered from the wind and has a wave-breaker in addition, so that you will find here almost always smooth and turquoise water. The beach is less frequented and that has a reason: you have to walk approx. 20-30 minutes from the parking place and then go downstairs to reach the bay.
Child-friendliness
The beach slopes gently down the sea. There is a wave-breaker in addition.

Water sports
unknown

Restaurants
There is a beach restaurant with a fantastic view.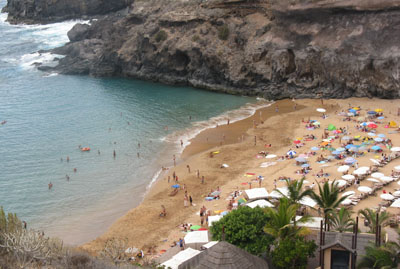 Coast region Guía de Isora
The community Guia de Isora is characterized by its landscape and banana plantations and goes along the coast from Callao Salvaje to Los Gigantes. There are other very beautiful beaches along the coast as for example Playa de San Juan and Playa de Arena as well as various small bays - hardly known and visited almost only by local people.
The town of Guia de Isora itself is situated approx. 600m higher on the street to Santiago del Teide. The whole region is characterized by agriculture, predominantly banana plantations. You can spend your holidays in beautiful fincas, simple holiday apartments and lonely located low priced holiday accommodations. The most popular place on the coast is Playa San Juan, but also Callao Salvaje. The towns La Arena and Los Gigantes are even more touristic.
Further beaches in vicinity:
Distances