Masca and the Masca ravine Barranco de Masca
Masca – an idyllic mountain village in the middle of the volcano crater.
Masca is a mountain village with only a few houses and a restaurant, in the north-west of the Canary Island of Tenerife. Masca is located in the Teno mountain range, about 650-800 metres above sea level. Until the beginning of the 1960s, Masca could only be reached via a sandy track from Santiago del Teide. Now there is a well-built, but curvy mountain road which connects Masca with Buenavista and Santiago del Teide. The small Plaza (square), at the church, is the midpoint of the village.
The Masca area, which is located in a volcano crater, consists of several parts spread across the mountain slopes. Wherever it was possible, terraced fields were created and people farmed. The migration to the cities of the youth, has been causing a decline of agriculture and senescence of the population. The fruit "Yame", palm sap, citrus fruits and goat's cheese, specialities from Masca. The reason for the productive agriculture were the drainage tunnels ("Galerias"), which were floated into the "Monte del Aqua" (Tarucho), down the generations. Today there are about one million visitors per year in this town, because of the tourism.
The village of Masca attracts many hikers daily, because the rocky path through the Barranco de Masca begins here, and ends on the bay at the seaside (it takes about 6-8 hours there and back). In the case that you don't want to hike both routes, you can go back to Los Gigantes by boat at the end of the gorge (Barranco). In this case you should book a guided Masca hike.
Due to a forest fire from 31st of July to the 3rd of August 2007, many houses were destroyed in Masca (amongst them also the restaurant of the old school), as well as a huge part of the vegetation area. The fire moved from the direction of the mountain to the village and had to be extinguished by a helicopter.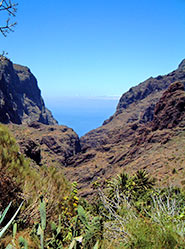 In Masca, the style of the houses, which have been built two-storied onto the slopes of the mountains, is particularly conspicuous. If there are several rooms in one house, then they are not connected with each other in the interior, but dispose of a separate entrance door each.

From the Mirador de Baracán you have the best view of the village and the surrounding landscape. In the valley there are palm trees, agaves, fig trees, almond trees, avocados and oranges.
• Activities in the area of Masca:
- Hikes/guided tours
Beaches in the area
Herrlich türkises Wasser am Ende der Masca Schluc
Toll zum Schimmen nach der Wanderung
Nur zu Fuss über die Wanderroute oder mit dem Boo
Distances