Güímar Puerto Güimar on the south coast
Güímar - an area of cultivation and popular for its pyramids
The town of Güimar is especially worth visiting because of its pyramids which had been discovered by Thor Heyerdal. Since 1997, the Parque Etnografico Piramides de Güímar is an impressive, archaeological park with an interesting museum.
Güímar is divided into two parts, Puerto Güímar (by the sea) and Güímar alto. The latter is the real city of "Güímar" and is situated about 5km above Puerto Güímar. Before the island became Spanish, the region around Güímar used to be the seat of a "Guanche-Mencey", a king of the Old Canarians. Today, Güímar belongs to the economical places of the island. It is located in the midst of a spreading, fertile slope valley.
The town centre itself is rather lively. If you leave the town towards Fasnia, you go past the Mirador de Don Martin. From here you have a wonderful view of the valley. You can see the terraces where wine, avocados, bananas, guavas, pineapples, tomatoes and chirimoya (sugar fruit) are cultivated.
The pyramids:
The pyramids of Güímar are lava stones that had been piled up to form 6 rectangular and long pyramid-shaped terraces.
The reason why they exist hasn't been cleared up yet. Traditions of the locals and old depictions show that such pyramids once were found at many places of the island.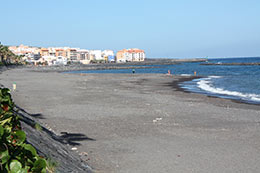 • Activities in the area of Güímar:
- Beach - bathing, snorkeling
- Hikes in landscape gardens like "Malpais"
• Attractions:
- Parque Etnográfico de las Pirámides de Güimar with pyramids
- Iglesia del Convento de Santo Domingo and townhall
- Auditorium Casa Chahona

Beaches in the area
Playa Puerto Güimar
Playa Candelaria
Playa Naos
Playa del Rico
Playa de Roque
Distances