Buen Paso north west tenerife.
Ca. 20 km to the west of Puerto de La Cruz lies the small village of Buen Paso in the north of the canary islands tenerife.
In the village, there are several fincas and houses, inhabited by locals. Some of them are let to holiday-makers, too.
Through banana plantations and gardens, you come to the sea and to a quiet bay. All the shops are in the upper part of the village.
A sandy beach is located in the fishing town of San Marcos, ca. 4 km away.
Buen Paso is a place of peace and tranquility.
Due to its proximity to the nature reserve and the Teide, Buen Paso is an ideal starting point for various hikes.
About 9 km away from Buen Paso, there is Icos de Los Vinos. The huge dragon tree, which is reputed to be more than 1000 years old, and the nice nature park in the centre of the village attract many visitors.
The biggest volcanically built cave in the world, the Cueva del Viento in the district of Santa Barbara, whose creation and original purpose are still surrounded by a mystery, is very close to Buen Paso, too.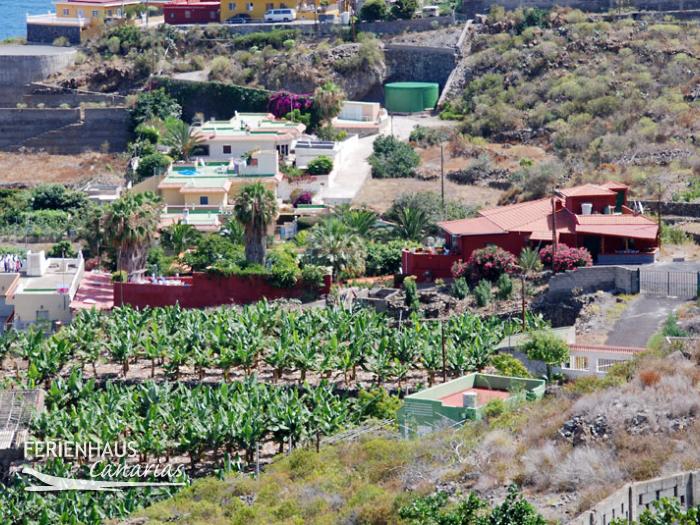 • Activites in the area of Buen Paso:
- Swimming at the Playa de San Marcos
- Sea water bathing pool in San Juan de la Rambla or Garachico

• Attractions:
- Cueva del Viento: 14 km long vulcano cave
- Church Iglesia San Marco in Icod de los Vinos
- Parque del Drago with the tree Drago Milenario in Icod de los Vinos
- Butterfly park El Mariposario del Drago in Icod de los Vinos
Beaches in the area
Distances