Tamaimo in Tenerife
The beautiful village of Tamaimo is located above Los Gigantes at the southwest coast of Tenerife.
From Los Gigantes you reach Tamaimo over serpentine streets through the Teno mountains. Here and in the area bananas, potatoes, tomatoes and papayas are grown. Other forms of agriculture also take place here.
The village has an old village centre with a Plaza and some very traditional restaurants and bars.
There are also some vacation domiciles availabe in Tamaimo. These are perfect for a relaxing holiday and are a perfect starting point for hiking tours, due to its location near the national parque "Canadas".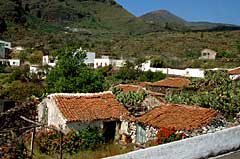 • Activities in the area of
Tamaimo:
- Hiking
- Boat trip with dolphin and
whale watching
- Diving at the coast of
Puerto de Santiago
- Mountainbiking in the
Teno mountains
• Attractions:
- Church St. Ana
Beaches in the area
Distances