Fasnia Tenerife South
Fasnia - Los Roques on the south coast of Tenerife

On the south-east coast, ca. 40 km to the south of Santa Cruz, lies the small, peaceful town of Los Roques - municipality of Fasnia.
Los Roques consists of an unspoilt part with only a few houses in the Canary style and a new, small estate of terraced houses.
Around the plaza in the town centre it's rather calm. Here you can spend relaxing holidays.
There's a small bathing bay in the town centre. At the side of the original town, there is also a small sandy bathing bay: Playa Abrigo. A few kilometers away are the beaches Playa Poris, Playa del Abrigo and Playa Abades.
A popular destination is the chapel, dedicated to Nuestra Señora de los Dolores.
After a volcanic eruption of the 2176 m high Volcán de Fasnia, 300 years ago, lava poured towards the town. Just before the town, the lava stopped.
In consideration of this, the inhabitants built the chapel on the 406m high mountain Montaña de Fasnia. From there, you have an expansive view of the coast and the town.

About 300m further, an estate of terraced houses, snuggled into the landscape in a picturesque way, came into being. Even here, in this housing estate, everything runs its quiet course. Los Roques is a holiday town to rest, leave everyday life behind and enjoy the view of the sea instead.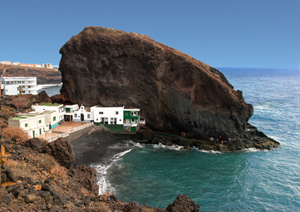 • Activities in the area of Fasnia:
- Hiking, for example from Carretera los Roques
- Beach Playa del Abrigo beneath the town
- Paragliding from the mountain Montaña de Fasnia
- Walk at the coast on the promenade of Roques de Fasnia
- Sea water bathing pool in Garachico

• Attractions:
- Caves of Herques
- Canyon Barranco de La Linde with lava arch
- Pilgrimage chapel Nuestra Señora de los Dolores
Beaches in the area
Playa Abrigo
Playa las Eras
Distances