El Rosario Tenerife
El Rosario offers beautiful nature and unique hiking experiences
El Rosario is a municipality with 17,000 inhabitants in the north-east of the Canary Island of Tenerife. The bigger municipality of Santa Cruz, capital of the island, and the village of La Esperanza are directly connected to El Rosario. La Esperanza is a popular hiking area, known as Bosque de la Esperanza. The fantastic forest with old eucalyptus trees and high pines invites you for relaxing walks through the forest or for hikes.

Our tip: The route from La Esperanza down to the sea to Taganana. You walk the first half slightly downhill through the forest, the second half under the open sky with dreamlike view down to the sea and, on the left side, into the fascinating mountain landscape. The hiking route ends at a local restaurant with typical Canary food and shady seats. Here at the restaurant, you should be picked up by somebody, as otherwise you would have to walk all the way back uphill.

Besides interesting hiking routes, picnic and barbecue areas invite you to have a picnic or take a rest. The barbecue areas are a popular destination for locals, who have barbecues there with their families, drink wine and enjoy the Sunday.

Another highlight of the region is the big farmers' market near La Esperanza on Saturdays and Sundays. If you want to go to a typical Canary farmers' market, you'll find it between the kilometer stones seven and eight at the Carretera General in the indoor market.
The opening hours are: Saturday and Sunday, 9:00 - 16:00.
Fresh vegetables and fruit, Canary wine, liqueurs, typical Canary cakes and sweets, wickerwork and handmade ceramics are sold there.
On the coast of El Rosario, there are the diving and sailing paradises of Tabaiba and Radazul.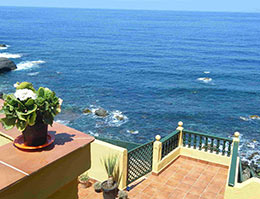 • Activities in the area of El Rosario:
- Diving/snorkeling – diving school at the beach
- Sailing in Radazul and Tabaiba
- Hiking/mountainbiking in the forest Bosque de La Esperanza
- Barbecue areas in the forest
Distances