Climate National Park Teide - weather and geologic features
The National Park El Teide has special weather conditions, because of the geographic situation. There is rarely rainfall and it's possible, that the temperature drops suddenly. It alternates between warm and cold temperatures. During the colder season, there are sub-zero temperatures at the higher locations. Then the volcano is covered with snow and the peak is not reachable by cable railway. Quite a lot of streets are not passable and mountaineering is not allowed during the cold weather time.
In the summer months there are very high temperatures in the national park El Teide - sunshine, over 40 degrees and a powerful mountain sun.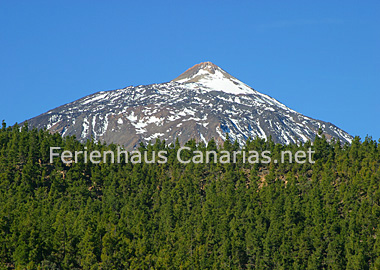 Preparation for a visit of the National Park:
Owing to the powerful sun, a sunblocker is necessary, even when you go on a trip to the peak by cable railway. You should always have enough to drink with you, regardless of the weather.
Due to sudden temperature drops, you should take a warm pullover and an umbrella with you.
Please adjust to the weather facts for enjoying the trip and the scenery at the Teide.
Geological features
The entire area of the national park Teide is impressive. Nowadays, the Teide is limited by rocks, forest and green, flat landscape. Geologically speaking, the volcanism is remarkable. It has produced some volcanos beside the Teide.
Sometimes, the special colours of the rock make you feel like being on the moon.