The Eagle Park- Parque Las Aguilas del Teide
The parque Las Aguilas del Teide is located in Chayofa - above the coastal town of Los Cristianos in the south of the Canary island Tenerife. The Parque Aguilas del Teide is both jungle and Eagle Park. On 75.000 m² was built a jungle setting, which is among the largest in Europe. In the beautiful tropical forest and wetlands live about 300 animals surrounded by flowers and trees. Among the animals are different species of monkeys like Orang-Utans and chimpanzees as well as lemurs, monitor lizards, penguins, turtles, alligators, tigers and of course eagles.
The park is divided into different areas; the jungle Park with a huge suspension bridge, an impressive waterfall, the 800 m long toboggan run (Jungle Raid) and a cave with sagging stalactites stalagmites, the eagle enclosure and the enclosure for different monkeys, etc.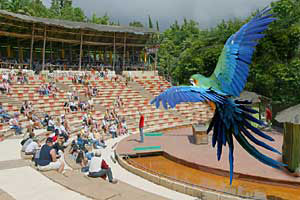 The special attraction is of course the show with birds such as parrots and the raptor show with eagles, vultures, buzzards, owls and even the rare large Condor from the Andes. The eagle shows also demonstrate the great intelligence of these animals. The raptors impress the audience when they rise majestically into the air and sail a few laps and then return to specific commands.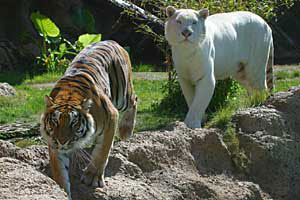 Right at the entrance is the big cat's enclosure with the rare white tiger, and on the way to the parrot show you pass the penguins, monkeys and alligators.
Parque Las Águilas - Jungle Park
Autopista Sur (freeway south), Salida 27 (exit ramp 27,
direction Arona, then, a few kilometers towards direction Arona)
Urb. Las Águilas del Teide
E-38640 Arona

Bird show with exotic birds: daily at 11 a.m., 2 p.m. and 5 p.m.
Raptor show: daily at 12 and 16 p.m.