Pets on tour - holidays with your pets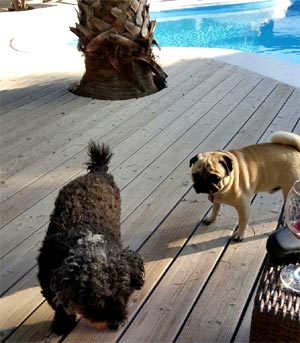 Take your pet on the island? Why not!
But please don't forget, every trip is stress for the animal. If you just do a short trip, it would be better to leave your pets at home with someone who takes care of them. The long flights are very stressful for the animals.
Based on experience you should just take your cat or dog on vacation if you stay at least four weeks on holidays. So the pets have some time to recover.
On arrival with a cat or a dog – requirements
You have to follow specific rules if you want to travel with your pets in the European Union. If you want follow this rules, your holidays might end before you even entry the other country.
Every animal that enters a country of the EU needs an EU-pets-passport. You get these papers from a veterinary. But just if they veterinary has the official permission to fill out this papers. So you have to ask your veterinary if he is allowed to give you the papers.
Does your pet have a chip? When you are an owner of a dog, your answer will probably be yes, but cat-holder doesn't always chipped their cats. To receive the EU-pets-passport your pet has to have this micro-chip.
If your cat or dog does not have a chip yet, you have to do it now. No chip - no passport! The identification number of the chip gets written down in the passport, so if somethings happen to the pet, it can get identified by this number without any problems.
Now your animal has a chip and you are the happy owner of an EU-pets-passport? Great! Now you just need to check if the animal has all needed and important inoculations.
The EU-pets-passport needs more than just the chip-ID. Besides the contact details of the owner and the animal, it also has to proof that the animal got all needed inoculations. What means: your pet has to have the anti-rabies inoculation.
If your pet already has this inocuation everything is great. If it got this inoculation for the first time, you have to wait 21 days before you are allowed to cross the European boarders. The vaccine protection needs 21 days to provide safety.
So please check your animals vaccination certificate early enough and make sure the animals gets all needed inoculations in time. Don't forget the EU-pets-passport and if you have any questions, don't hesitate to ask your veterinary.
Flight with dogs or cats
Small dogs and skinny cats are the lucky ones:
Dogs with a max. weight of five kilogram are sometimes allowed to fly together with their owners in the cabin. Dogs who are heavier than 5kg have to fly in the cargo hold.
Cats have to be transported in a box which isn't allowed to be taller than 55 x 40x 20 centimetre. If the cat and the box aren't heavier than eight kilogram, they are also allowed to fly in the cabin.
Important: Not all airlines are animal-friendly. So please talk to the airline early enough to find about their rules. This way neither you nor your pet has to deal with unnecessary stress or trouble.
Arriving by car or a ferry
If you decide to arrive on Tenerife with your own car and the car-ferry, please keep following things in mind:
Make sure your pet is protected from the heat. A heat stroke can happen fast and is dangerous. Make sure your pet has enough water.
When you book the ticket for the ferry, ask for a Pet-owner-cabin. Book early enough because there are just a few cabins for pet-owner.
Spoil your dog and cat before, during and after the trip. Don't forget their favourite food and treats, their blanket or toys.
No matter if you arrive by car, ferry or plane - talk to your veterinary in advance of your holiday trip.
Your stay on Tenerife
When you take your cat on vacation, you probably don't want to take her to the beach. But when you travel with a dog, you probably want to go for a walk on the beach and let him jump into the sea.
Please notice: On Tenerife you are not allowed to take you dog to every beach. On many beaches dogs are prohibited. It can be very expensive if you ignore this and take him to the beach anyway.
So far, there is just one dog beach. This beach is located in Puertito de Güimar. Dogs that are classified as dangerous have to stay on the leash. All other dogs are allowed to run free.
Your dog made a dog-doo? Please do not ignore it and walk away. As the owner of the dog, it is your job to clean it up! if you don't do it, the police can charge you a high fee.
Result: Think twice if it's the best for your pet and for you to take them on vacation. Is it really worth the stress? Please don't forget, that dogs are not always welcomed and that your cat has to spend almost of the time in a transportation box.
More information about Holidays with dogs