Holidays on Tenerife - things to know
To spend the perfect holidays on Tenerife, you have to think about a few details: the flight, the accommodation, the rental car and the planning of the activities.
No matter when you want to spend your holidays on Tenerife, here you have pleasant temperatures the entire year. This is the reason why Tenerife get called the "Island of the eternal spring".
Temperatures in the south:
Summer: 20°C – 30 °C Winter: in average not under 18°C
Temperatures in the north:
Summer: 20°C – 26°C Winter: in average ca. 18°C
There are many legends about the native (Guanchen) who lived on Tenerife. Until today, no one knows for sure how they got on the Island. Their got called Mencey. When you are on Tenerife you can look at the statues of the Menceys on the church square of Candelaria, in the south-east of the island.
You can take the ship or an airplane to arrive on Tenerife. If you star e.g. in London and you have a non-stop flight it takes you approximately 4 hours from the Tenerife south airport.
The right accommodation on Tenerife - a big assortment
In which location do you want to spend your holidays?
➜ In the green north
➜ In the warm south
➜ In the quiet mountains e.g. in La Orotava
➜ Near the sea e.g. at the Costa del Silencio
➜ In touristic areas like Los Cristianos
➜ …
More criteria could be:
➜ Sea view
➜ Distance to the beach
➜ Wi-Fi
➜ Stores in walking distance
➜ Distance to restaurants
➜ and more...
Here you can find the followings: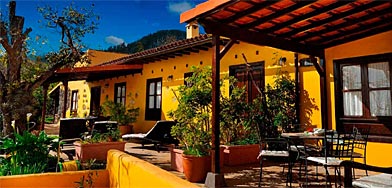 ➜ Modern ecological-houses
➜ Fincas for group traveling
➜ Holiday flats with sea view
➜ Villas next to a golf course
➜ Holiday accommodations next to the beach
➜ Villas with heated private pool
➜ Fincas in a quiet area
➜ Accommodations for long-time holidays on Tenerife
We, the Team of Ferienhaus-Canarias, are looking forward to assist you with your search and booking. Please don't hesitate to contact us via E-Mail info@ferienhaus-canarias.net or by phone (0049 08677 – 4099730).
A rental car for your holidays on Tenerife…
Of course you have the possibility to us the public transportation like the bus to get from A to B or to use a taxi.
However, having an » own rental car « has some advantages:
You don't have to follow the bus line time schedule -> and you don't have to stop several times
The gas is quite cheap on Tenerife
You can stop "wherever" you want and enjoy the landscape
If you go (grocery) shopping it is easier to transport the goods with a car. Especially when you travel in a group
You can plan your activities however you want and you are flexible
Possibilities to go swimming and to lie in the sun – from the beach until special swimming pools
Tenerife offers many beaches and swimming places - all together more than 40 – some are well-known others are insider tips
Here you can find everything... beaches, sports, activities, hiking, sights and more... in our travel guide: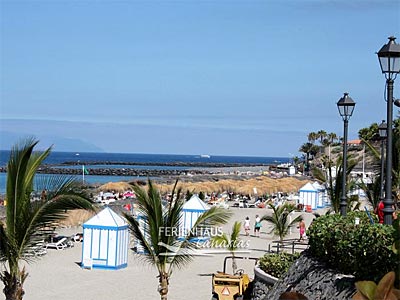 Most of the beaches offer sun loungers and sun umbrellas for a daily fee.
Following places are worth a visit:
➜ Playa las Vistas in Los Cristianos.
➜ Seawater swimming pool Lago Martianez
➜ Playa las Teresitas
Please don't forget the sunscreen! Especially around noon and in the afternoon the sun is really strong. Tenerife is really close to Africa! That means the sun is much stronger as in the UK - please use sunscreen!
On Tenerife there is a lot to do!
National park Teide
The Teide is a volcano with a size of ca. 3700 Meter. But the national park doesn't is a volcano. Around the Teide, there is a huge crater. The Teide is a volcano in a volcano – for many holiday makers a visit to the Teide is a must do.
La Laguna: La Laguna was the capitol city of Tenerife. This town is full of nice architecture and impressive houses.
Masca: Maska is well-known for its special foods like the Yame-fruit, Palm-juice and goat-cheese. The famous Masca-Canyon is a loved hiking destination.
You should also see:
➜ Los Gigantes
➜ Puerto de la Cruz
➜ Dragon-tree: Drago Milenaro
You think a vacation on Tenerife is boring? – No way!
What you can do on Tenerife and what you should not miss: excursions/ amusement parks…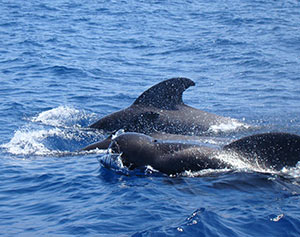 ➜ Whale Watching
➜ Helicopter flight
➜ Loro Parque
➜ Siam Park
➜ Climbing park in Esperanza
➜ And much more...
Fiestas on Tenerife
The locals are usually very happy and friendly. They take every reason to celebrate.
Fiestas on Teneriffa can be:
➜ Carnival in February/March
➜ Sansofé in El Médano: in August the plaza is crowed every evening! E.g. movies, a performance...
➜ Just try the night life of Tenerife in:
➜ Cafés
➜ Bars
➜ Discos
Especially in the touristic areas you will find many places to party. Or just have a drink in a Café or restaurant and enjoy the evening.
Tenerife offers different kinds of sport during the entire year:
Mountain bike:
There are tour offers for beginners or advanced
Kite surfing and Wind surfing:
Each year the wind surfing world-cup get hosted in Él Medano, and you can watch the world's best wind-surfer.
Golf:
On Tenerife you find a few golf courses.
Golf courses on Tenerife:
Near Santa Cruz there is a 18-holes-facility with got build more than 70 years ago
Golf Las Américas
Centro de Golf los Palos
Amarilla Golf
Golf de Sur
Golf Costa Adeje
For all who wants to spend their holiday's right next to the Green we have following offers:
Here you will find the perfect accommodation for golf lovers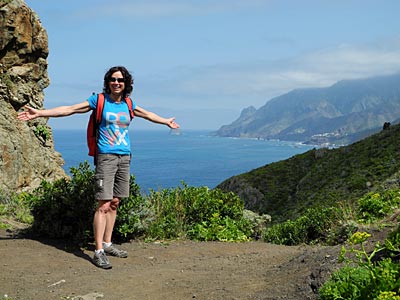 Hiking: On Tenerife you will find nice hiking trails for beginners or advanced:
➜ From Puerto de la Cruz to the Café Vista Paraíso
➜ From Puerto de la Cruz to Mirador de San Pedro
➜ Candelaria trail: Aguamansa- Montana de la Crucita
➜ Santiago del Teide to Masca
➜ Tamino to Los Gigantes
➜ Masca Canyon
Also sports... like climbing, horseback riding, tennis, diving and more are possible during your vacation on Tenerife.
Accommodation and flight are booked and the activities are planned:
The holidays are getting closer, just a few weeks or days are left. Here we wrote a checklist for you with things you should not forget before you start your vacation.
With this checklist you will "save money and time"!
In our travel guide (mentioned above) you will find even more information about Tenerife.
Holidays on Tenerife
Holidays on Tenerife - knowledge