Tenerife forum - information and helpful tips
What is a forum? In general a forum is a meeting point with helpful tips. All these tips you would expect in a forum about Tenerife, are to be found in our travel guide or in our blog.
Here we wrote down a few interesting topics like the weather on Tenerife, sights, internships or emigration:
First question in a Tenerife forum? How is the weather?
On Tenerife you have nice and pleasant temperatures during the entire year. Because of this, you can plan your beach vacation on Tenerife any time and in every season.
The sea - Water temperature: in summer up to 26°C and in winter between 19 and 23°C

December until February: a bit more clouds as in the summer month; but in average you still have around 5 hours of sun per day, so they are still around 20°C in average.

May until August: barely rain with temperatures of around 30°C – In the night around . 22°C
Internship on Tenerife/ tourism
The main source of revenue on Tenerife is the tourism. If you want to do and Internship in the tourism industry or the food service industry you will find an internship on Tenerife. From the hotelier to diving schools or language schools, Tenerife offers many internships. The native language on Tenerife is Spanish, so you will improve your Spanish skills automatically. After the work you can relax on the beach and drink a coffee or coke in a café… If you do an internship in a hotel, you usually get provided with an accommodation. If you work in a different enterprise you can look for a flat share. The locals are very hospitably and friendly and welcome you immediately. – Work where others go on vacation. Could it be any better?
Many forums talk about the topic: emigration.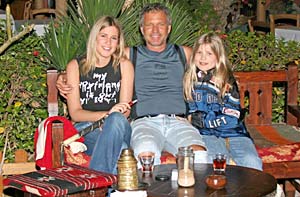 Tenerife is also called the Island of the eternal spring; a place where you want to live. But you should know that it is a big step to leave everything behind...
More and more people from Great Britain, Italy, Germany and people from South America immigrate to Tenerife.
Because of personal reasons or professional reasons? Or is it just because of the lifestyle and the open hearted locals?
Especially older people like to go to the Canarian Islands, e.g. Tenerife. This is because of the mild climate which is quite good for the health.
Many holiday makers fall in love with the beautiful landscape. Also singles or young couples and families with children choose Tenerife to become their new home.
This is an amazing adventure especially for young people and a good option to make experience which last a lifetime.
Of course you don't need to speak Spanish to get along on Tenerife, but it is much easier to meet new people and to make friends if you speak Spanish or at least try it.
To immigrate to Tenerife is much different than an internship for a few months – here you have to make decisions and to plan a lot. Also you should be aware about the risks and the consequences.
In a forum about Tenerife, many people ask about "Sights".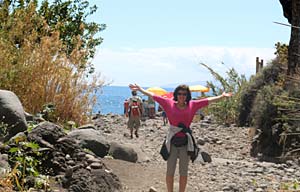 What is a Sight? – This can be everything you are interested in; E.g.:
El Teide: the volcano has an approximately size of 3700m, is the biggest mountain in Spain and the world's third highest volcano on an Island. The Teide is surrounded by a moon landscape made out of lava - this created a big crater around the Teide.
Masca: Masca is a really small but quaint mountain village above the Masca-Canyon and offers a fantastic view. The Masca-Canyon is impressive and has a breath-taking landscape. Here you will also find the highest waterfall on Tenerife. "Hiking" down the Canyon will take you around 3-4 hours.
Of course there are many other sights, beautiful places and landscapes or impressive architecture... You can read about it in our travel guide.
Also amusement parks can be part of sight-seeing. Here are two nice examples:
Loro-Parque: In the beginning, the Loro-Parque had only many different parrots. Nowadays you can also see fish, penguins, sea lions, dolphins and orcas. A few times a day you can watch a show with parrots, sea lions, dolphins and orcas. If you like animals you can support the parrot foundation "Loro-Parque Fundatción".
Siam Park: The Siam Park is a large water park with many different water slides and a beach with waves. A dream for all water lovers.
In a forum about Tenerife, many people ask about sport activities on Tenerife
On Tenerife you have the entire year nice temperatures. If you want to do sport during vacation, Tenerife is the right place.
There are many kind of water sports like diving, snorkelling and swimming, but also kite surfing and wind surfing.
If you like kite and wind surfing the town El Medano is the perfect place. It is in the south of Tenerife and here you have wind almost every day. Perfect conditions.
On Tenerife you can also do sports like golf. There are several golf courses as well as holiday houses right next to a golf course. In Santa Cruz there is the 70-years old 18-holes-course.
Find your holiday house near a golf course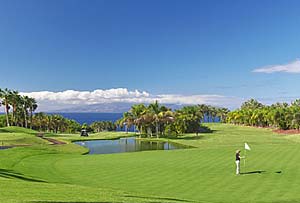 More golf courses:
⛳ Golf Las Américas
⛳ Centro de Golf los Palos
⛳ Amarilla Golf
⛳ Golf de Sur
⛳ Golf Costa Adeje
If you prefer riding your bike, you have long and mountainous routes and also flat paths. No matter which route you choose: you have definitely a beautiful view of the nature!
Some hiking trails:
From Puerto de la Cruz to the Café Vista Paraíso
From Puerto de la Cruz to Mirador de San Pedro
Candelaria trail: Aguamansa- Montana de la Crucita
Santiago del Teide to Masca
From Tamino to Los Gigantes
Masca-Canyon
Tenerife and its beaches
As you can read in our Travel guide, there are more than 40 beaches on Tenerife. They either have smooth white or black sand or little rocks. Most of the beaches are provided with sun loungers and sun umbrellas you can rent for a daily fee. Please don't forget to bring your sunscreen! Especially the sun in the afternoon is really strong and you can get sunburned easily.
Some beaches installed wave breakers so the waves aren't that strong and also children can go into the water.
A really nice beach is e.g. the artificial beach Playa Las Teresitas which has sand from the Sahara and is located in the north.
Of course the "topic food" is really important in a forum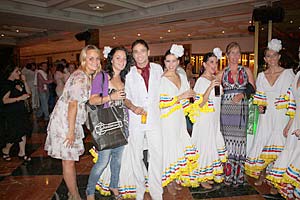 On Tenerife you can eat international meals like pizza, pasta or steak. There are also many Asian cuisines. Of course also the traditional Spanish meals like paella or shells are to be found everywhere. In the fishermen's villages there are many delicious fish meals you should try.
The typical Canarian cuisine doesn't have many meals but they are very healthy.
Here are some delicious examples from the typical Canarian cuisine:
Papas Arrugadas: Papas Arrugadas are small potatoes with a peel of salt. Usually they get served as a starter or side dish.
Mojo: Mojo is a traditional Canarian sauce. It gets served with different meals or with fresh bread as a starter. The Mojo can have different colours and tastes.
Sancocho: Sancocho is a meal made out of dried fish. It gets prepared with potatoes and/or leguminous plants, garlic and onions vinegar and salt.
What other questions get asked in a Tenerife forum? E.g.:
What else can I do on Tenerife?
On Tenerife you can visit on of the above mentioned amusement parks and sights but there are even more. You can also do sports or just enjoy the sun and the beach or your private pool. Tenerife offers even more activities:
Whale Watching: Tenerife is one of the best places to do whale and dolphin watching. Whale Watching is possible in all seasons of the year. Whether special sea plants, special dish or whales - in the Atlantic around Tenerife you will find many different interesting and beautiful things. Pilot whales are the most common whales around Tenerife. The boat tours start e.g. in Los Gigantes. There are many different kind of boats you can choose. E.g. sailing boats, glass-bottom-boats,…
Helicopter sightseeing flight: If you want to see Tenerife from above, you can do this with a helicopter sightseeing flight. Explore this amazing Island from a totally new perspective.
Partying on Tenerife – is that possible? Our "forum" says: yes!!!!
Tenerife is a good place for young people who like going in clubs or on party's.
Especially on the south coast in towns like Los Cristianos and Las Americas you find enough places to party. Here are nearby bars, clubs and discos.
But you can't really compare a Fiesta on Tenerife with a Party in Germany. Good weather, open hearted and friendly locals make sure that every party has the slogan "good mood and fun".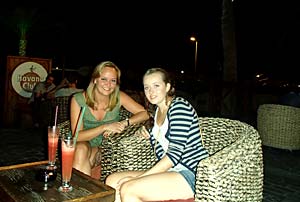 You can also sit in a Lounge with your friends, drink cocktails and enjoy the evening.
Also the dance floors are different and play international music for everybody.
The locals are always in a party mood, and don't like it if someone looks grumpy. So it can happen that they try to make you smile.
Welcoming women with sayings like Hola Guapa ("hello beautiful") or mi amor don't necessarily mean they try to hit on you. It is more a polite saying. When you meet with locals or say goodbye they give a kiss on each cheek, what is a normal greeting on Tenerife.
Briefly speaking: Going on a Fiesta on Tenerife is fun and you make friends. After a maximum of 15 minutes everyone will be in a good mood.
➠ During your holidays you should go on a "Fiesta" (Party) at least once. E.g:
Achaman Discopub
Papagayo Beach Club
Discoteca Tramps
Banana Garden
Faro Chill Art
Many forums talk about these topics and more. We write about these in our travel guide.
Everything at one look
Forum Tenerife - information!