TF1425
House with sea views & whirlpool in El Tanque Tenerife North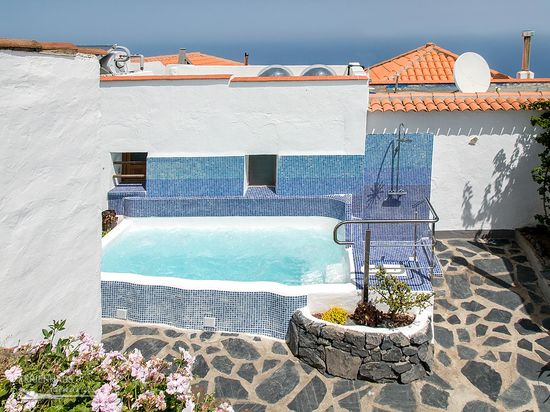 1. week: price/day from
96,00€
/ 2 pers.
Each additional day from
79,00€
/ 2 pers.
Tenerife north El Tanque
5 bedrooms + 3 bathrooms
Occupancy up to 10 People
Living about ca. 225 m²
Minimum stay: as of 7 nights
Internet
SAT-TV
Washing machine
Microwave
Dish washer
Cot
Property description
The detached house is located in the north of Tenerife, below the village of El Tanque about 12 km west of Icod de los Vinos to about 500 meters. You are surrounded by quiet, green countryside and a great ocean view.

The house with 5 bedrooms sleeping up to 10 people has a main building with patio, terraces, garden, barbecue, as well as several outbuildings which were developed in part to suites or rooms. On request with breakfast service, delivering fresh bread from the bakery from Monday to Saturday. Payment is made directly to the driver. The hot water of home building is environmentally friendly by solar system or possibly electric. The small garden next to the house invites you to enjoy the flowers and plants. You are welcome to pick the lemons and other fruits.

Generous outdoor whirlpool on request and for a fee electr. heated
Well-equipped, all rooms with wood-burning stove heated
You have the house on your own
Free Wi-Fi, living room with large LDC TV & SAT TV
Large terrace with fantastic sea views, gas BBQ
Fully equipped kitchen
Great garden with fruit trees (fruit can be picked)
Edge of town, surrounded by gardens and vineyards
Parking
A hired car is absolutely necessary.
Features
Living room:
Internet
Flat screen TV
German TV programs
SAT-TV Satelite
DVD Player
Woodburning stove
Heating possibility / living-room
Kitchen:
Microwave
Stove with 4 plates
Fridge
Freezer
Dishwasher
Dishtowels
Bedroom:
4x Double bed
2x Single bed
Cot on request
Bed linen
Bathroom:
Motto/ suitable for:
Non- smoker
Children welcome
Family holiday
Group tour
Hiking holidays
Pet on request
Outdoor facility:
Outdoor whirlpool
Whirlpool for a fee
Barbecue
Terrace
Garden
Garden furniture
Sun lounger
Sea view
Generally:
Washing machine
Laundry dryer
Bun service
Equipment
The main building has a living room with adjacent bedroom with bathroom en suite. Further, a kitchen with dining room and a second Bathroom with washing machine and tumble dryer in the outdoor area. The outdoor pool, living room and kitchen are connected to each other via the patio, which is covered.
This patio is connected to the terrace and access to the other buildings.
Living room, bedroom and dining room of the main building have a terrific view of the sea. The living room is equipped with typical furniture, a cozy seating for 5 people, a 32 inch LCD television with satellite channels and DVD player.
The kitchen includes a gas stove, microwave oven, dishwasher and fridge with separate freezer. Kitchen, living room and all bedrooms have fireplaces. Ample firewood is provided for free.
In the reverse -lying part of the property is a building with a bedroom with private bathroom and small dining area. In addition, three other small buildings, each with a bedroom without a private bathroom. This 3 bedrooms, the spacious outdoor pool is available with the patio.
Outside you have a covered patio, the terrace of the main house with sea view and garden furniture for dining or cozy gathering, a barbecue, whirlpool, small garden.
The large Jacuzzi for up to 8 people located in the back patio. The hot tub is used primarily by solar heated so the water temperature is dependent of the weather. On request and at an additional cost, the pool can be electrically heated to 28 °. Sun beds are sheltered behind a covered stone wall.

Note: Prices are based on occupancy bedrooms
. 1 Bedroom - Price for up to 2 persons
2 Bedroom - Price for up to 4 persons
3 Bedroom - Price for up to 6 persons
4 Bedroom - Price for up to 8 persons
5 Bedroom - Price for up to 10 persons

unbooked bedrooms are closed during the stay. The Ground is always alone available.

Note check in:
For arrival after 22 clock is an administration fee of 20, -EUR and for arrivals after 24 pm for an administration fee of 50, -EUR calculated. The fee is to be paid on arrival in cash.


Detailed price information:
If you specify your travel period and give information about your fellow travelers, the correct travel price will be calculated immediately.
price per night
up to 2 pers.
up to 4 pers.
up to 6 pers.
up to 8 pers.
up to 10 pers.
01. Jan
to
09. Jan
1. week per day
106,00€
140,00€
163,00€
197,00€
220,00€
each additional day
89,00€
119,00€
139,00€
169,00€
189,00€
10. Jan
to
19. Dec
1. week per day
94,00€
129,00€
151,00€
186,00€
197,00€
each additional day
79,00€
109,00€
129,00€
159,00€
169,00€
20. Dec
to
31. Dec
1. week per day
106,00€
140,00€
163,00€
197,00€
220,00€
each additional day
89,00€
119,00€
139,00€
169,00€
189,00€
In the daily price are included:
final cleaning in the amount of 1 daily rent
additional costs of 25,00€
as well as bed linen, hand, bath and
dish towels
Minimum stay

This property can only be booked as from 7 nights.
Arrival and departure possible every day.

Further charges

Internet
free of charge
Cot per day
10,00€
1 Pet
free of charge
Possible additional costs on location
Additional costs on location can arise according to use and customer requests. This can include for example a Wifi, child highchair, use of an additional heating or air conditioner, pool/jacuzzi heating or the like. Please find details in the descriptions of the objects.
Feedback-House with sea views & whirlpool in El Tanque /Tenerife North
Feedback from Anette from Hohenwart / Germany, written on 02/10/2015
The lessor was anxious to satisfy all our wishes. The holiday house location is really nice with a great view over the ocean. The accommodation of the house is good and enough for a holiday. The bedrooms and bathrooms are all generous and the housing area all in all really quiet. A rental car is important to have.

To enjoy some real canarian food we recommend the village Garachico, some ocean bays are inviting for a swim or the Teno Mountains for hiking. As well the village is close to the Teide and the Anaga Mountains.

The accommodation was beautiful and met my expectations
The property was described well and correctly.
Yes, I would book again with Ferienhaus Canarias

Feedback from M. Sturm from / Austria, written on 02/15/2014
Den grossen Whirlpool haben wir mit unseren Kinder ganz besonders genossen.

The guesthouse is located at the end of a blind alley and is in a really quiet surrounding and a great sea view, exactly what we wished for.
The partition of the house is perfect for bigger families or groups, it was clean and with a nice interior in a high quality. We felt like being home. In particular the hot tub was a dream for me and my family.

Only a few minutes by car to the beach in Garachico and to the Loropark.

The accommodation was beautiful and met my expectations
The property was described well and correctly.
Yes, I would book again with Ferienhaus Canarias