TF1063
Beautiful finca with traditional Canarian architecture - El Sauzal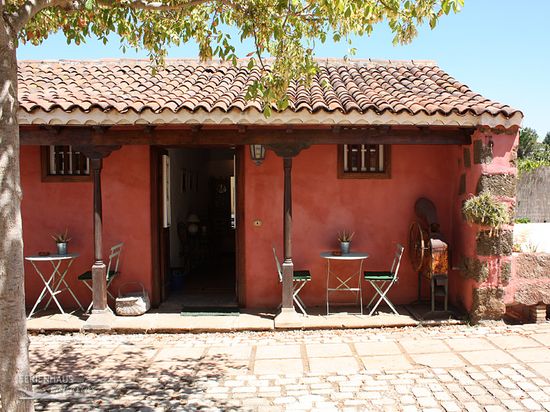 1. week: price/day from
85,00€
/ 2 pers.
Each additional day from
69,00€
/ 2 pers.
Tenerife north Tacoronte
4 bedrooms + 3 bathrooms
Occupancy up to 10 People
Living about ca. 145 m²
Minimum stay: as of 7 nights
Internet
SAT-TV
Washing machine
Microwave
Dish washer
Cot
Property description
Off the beaten tourist tracks you can still find it – the real Tenerife! This finca is perfect to experience the original flair of the traditional Canarian architecture of the 18th century in connection with modern conveniences.
It is hard to describe the finca because there are so many beautiful details that you simply cannot name all of them. We were amazed at the charm of the past and the many details that give every room a very special romantic atmosphere.
And that is why we say that this finca is incomparable. An oasis for relaxation - for couples as well as for families.
The finca with vineyards, fruit trees and vegetable garden is complete in itself. No one else will disturb you on this property.

The finca is situated 180 metres above sea level in Tacoronte, close to El Sauzal at Tenerife's green north coast. Whether you want to go hiking, biking, paragliding, golfing or simply lying on the beach, everything is reachable in a few minutes. It is only 3 km to the beach "Mesa del Mar" and only a few minutes by car to the beach Playa Bollullo – one of the most beautiful natural beaches. To the 18-hole golf course it is about 3.5 km.
perfect for nature lovers and only 180 metres above sea level
completely renovated and furnished but still traditionally Canarian
barbecue area
forest Agua Garcia nearby
wifi internet
privacy and freedom in your holidays
heating: oilradiatores
1 cot available
A hired car is absolutely necessary.
Features
Living room:
WiFi
Television
German TV programs
SAT-TV Satelite
Heating possibility / living-room
Sofa bed
Kitchen:
Microwave
Coffee machine
Toaster
Stove with 3 plates
Fridge
Dishwasher
Dishtowels
Bedroom:
4x Double bed
Cot
Bed linen
Bathroom:
Motto/ suitable for:
Children welcome
Family holiday
Group tour
Golfing holiday
Hiking holidays
Pet on request
Long-term holiday
Outdoor facility:
Barbecue
Terrace
Garden view
Generally:
Equipment
The living rooms and bedrooms are located in 3 houses which are connected by courtyards and gardens. Just like it was tradition then, every room still has its own entrance. Every bedroom has en suite bathroom.

Room layout:
Red house: Here you will find 2 of the bedrooms with en suite bathroom and a small terrace in front of your door.

White house: It is located next to the yellow house. Here is the third bedroom with en suite bathroom and a small terrace.

Additional bedrooms are available in outbuildings.
Yellow house: Opposite the red and the white house. Here is the kitchen and the living room with sofa bed.

Equipment: The kitchen is equipped with everything you need: gas cooker, dishwasher, coffee machine, toaster, microwave, fridge, etc.

Satellite TV and barbecue area are available as well.
We have deposited a large selection of photos for this finca. This way you can get your own impression about all the details and the nice decoration.

Notes on prices:
The prices are not the number of people, but on the number of bedrooms required:
1 bedroom (1-2 persons): €59.-Euro
2 bedrooms (2-4 persons) €79.-Euro
3 bedrooms (3-6 persons): €99.-Euro
4 bedrooms (7-8 persons): €119.-Euro

*** Note***
If you arrive after 22:00Uhr you will have to pay a one-time fee of 25,00€.


Nearby beaches
The nearest beach is Playa Mesa. Other beaches at the coast are not far away either.
Detailed price information:
If you specify your travel period and give information about your fellow travelers, the correct travel price will be calculated immediately.
price per night
up to 2 pers.
1. week per day
83,00€
each additional day
69,00€
up to 4 pers.
1. week per day
112,00€
each additional day
94,00€
up to 6 pers.
1. week per day
141,00€
each additional day
119,00€
up to 8 pers.
1. week per day
169,00€
each additional day
144,00€
up to 10 pers.
1. week per day
198,00€
each additional day
169,00€
In the daily price are included:
final cleaning in the amount of 1 daily rent
additional costs of 29,00€
as well as bed linen, hand, bath and
dish towels
Minimum stay

This property can only be booked as from 7 nights.
Arrival and departure possible every day.

Further charges

Internet
free of charge
Cot
free of charge
1 Pet
free of charge
Possible discounts:
Long-term discount 5% from 30 days of holiday period
Possible additional costs on location
Additional costs on location can arise according to use and customer requests. This can include for example a Wifi, child highchair, use of an additional heating or air conditioner, pool/jacuzzi heating or the like. Please find details in the descriptions of the objects.
Feedback-Beautiful finca with traditional Canarian architecture - El Sauzal/ Tenerife north
Feedback from Oliver from Köln / Germany, written on 02/25/2015
The owner welcomed us extremly friendly. It is a nice house, lovely interior, we were missing nothing. Even as the WLAN didn´t work the owner took care of it right away.
Everthing was fine.

The accommodation was beautiful and met my expectations
The property was described well and correctly.
Yes, I would book again with Ferienhaus Canarias

Feedback from Katrin from Augsburg / Germany, written on 01/09/2015
The location of the holiday house is just perfect. Staying there you have a quiet surrounding, but also you are in 5 minutes on the motorway to all the different destinations. You have even a choice of at least 4 different beaches you can optional go to.
The accommodation is like in the description, wonderful and restored in every detail. The room´s interior are nice and have terraces, a garden and an own dragon tree.
The equipment in the house is very good, there is a bathroom for every bedroom and the beds have great matrasses , we really slept wonderful. In case of colder or rainy days, every room is equipped with a heater and an umbrella at every door.
The kitchen is well equipped with everything you need for at least 6 people in the house.
The lessors welcomed us friendly and took care of everything, as a welcome present we got a plate with fresh fruit.
Free internet connection worked problemfree.
The surrounding was quiet, the kids liked especially their "own apartment" and we would come back any time.
Thanks a lot, we really enjoyed our vacation.

The accommodation was beautiful and met my expectations
The property was described well and correctly.
Yes, I would book again with Ferienhaus Canarias

Feedback from Katrin from Berlin / Germany, written on 11/06/2014
The landlords are really friendly, cooperative and committed.
The holiday house is from inside and outside beautiful. Everything you need, you will find there, detergent, coffee...
We had 2 perfect holiday weeks and would like to come back.

The accommodation was beautiful and met my expectations
The property was described well and correctly.
Yes, I would book again with Ferienhaus Canarias

Feedback from Jessika from Brandis / Germany, written on 02/18/2014
Nice athmosphere , lovely interior, super nice lessor, everything was clean and we had everything we needed.

The accommodation was beautiful and met my expectations
The property was described well and correctly.
Yes, I would book again with Ferienhaus Canarias

Feedback from Doris from Landau / Germany, written on 04/08/2013
Far away from all the tourism hype, is that holiday a dream of living. With a nice garden, some vine, fruittrees, an old dragon tree and some palmtrees is it like in paradise.
Everything was clean , it was equipped with everything we needed, a bedroom with an own bathroom, television and internet connection.
The location is perfect for starting a hike and to visit the northern part of the island.
We definitly would recommend this accommodation.

The accommodation was beautiful and met my expectations
The property was described well and correctly.
Yes, I would book again with Ferienhaus Canarias