TF1017
Holiday house near the sea, beautiful sea view + WiFi / San Juan de Rambla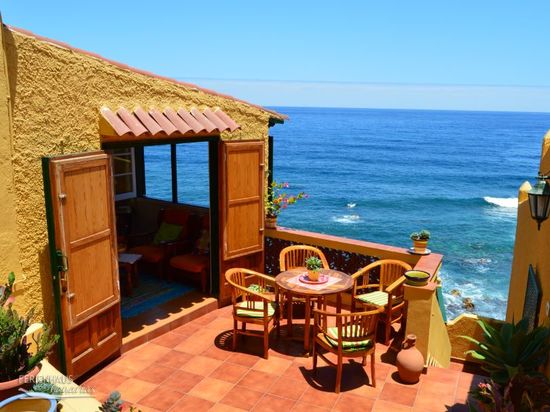 1. week: price/day from
105,00€
/ 2 pers.
Each additional day from
100,00€
/ 2 pers.
Tenerife north San Juan de Rambla
2 bedrooms + 2 bathrooms
Occupancy up to 4 People
Living about ca. 100 m²
Minimum stay: as of 7 nights
Internet
SAT-TV
Washing machine
Microwave
Cot
Barbecue
Property description
The unique location – only 30 metres above the ocean - of this holiday house in San Juan de Rambla at the north coast of Tenerife guarantees a breathtaking sea view, that has no equal as well as the view of lovely sunsets and (with clear view) all the way to the neighboring island La Palma. No matter if you are on the terrace or in the living room, if it´s day or night: This amazing view won´t go away!

The holiday house has been awarded with 4 espigas from the Canary tourism board (there are no stars for rural tourism, but espigas). The holiday house has 4 espigas for 8 years now. Only neat and tidy houses with excellent management, that provide everything for a pleasent holiday are awarded with espigas.
The holiday house is a so called casa rural, that has been restored elaborately. Special attention got paid to retain the peculiar charm of bygone times and the approval of the tourism board for holiday let.
The location: San Juan de Rambla is close to Icod de los Vinos. It is a rural municipality with fincas and rural tourism. There are no large concrete hotels, which only makes the nature as well as silence and relaxation more appealing. You don´t have to go without anything, e.g. hiking trips along the Barranco Ruiz, which is known for its botanical interesting hiking paths.
You also have th possibility to start hiking right in front of the holiday house, e.g. along the Camino Real to the Barrio Las Aguas. Back in the days it was possible to cross the complete island on the Camino Real. Information material is available in the holiday house.
If you want to be active, you can go diving, surfing, fishing and playing tennis in this region. Padel courts are only 2 kilometres away and the next golf yard is 20 kilometres away. The next beach is Playa San Marcos.
Great location - 30m above the sea - with amazing view
Hiking path almost right in front of the house
Beautiful ambience inside and outside
Information on trips around the island in the holiday house
Washing machine, hair-dryer, satelite TV, iron
Towels and bedding inclusive
1 cot and high chair for free
Internet / WiFi
A hired car is absolutely necessary.
Features
Living room:
Internet
Television
German TV programs
SAT-TV Satelite
Heating possibility / living-room
Kitchen:
Microwave
Mini-oven
Stove with 4 plates
Fridge
Children's high chair
Dishtowels
Bedroom:
Double bed
2x Single bed
Extra bed
Cot
Bed linen
Bathroom:
Shower
Hair dryer
Hand / bath towels
Motto/ suitable for:
Children welcome
Family holiday
Diving holiday
Beach holiday
Outdoor facility:
Barbecue
Terrace
Garden furniture
Sun lounger
Sea view
Generally:
Washing machine
Public parking
Equipment
This casa rural provides enough room for 2 to 4 persons, with additional bed for 5 persons and 1 or 2 children in the cot.
There is a comfortable sitting area, satelite TV and a dining table in the living room.
The kitchen comes along with stove, fridge, microwave, small oven and the neccessary tools. Furthermore there is a washing machine.
The holiday house has 2 bedrooms, one with double bed and the other one with 2 single beds. Cot and high chair are available.
This casa rural provides 2 bathrooms.
Part of the exterior area are 3 spacious and furnished terraces with sea view, sun loungers and a BBQ grill.
Spent a relaxing holiday in this comfortable, rustic and light holiday house and listen to the soft rush of the waves!

*** HINT *** Additional bed for 5th person is available upon consultation. Price: 10 € / day, payment at hand. In this case please call us before booking: 0034 922 391 044
Nearby beaches
Th next bathing area, a natuarl bathing bay, is only 30 metres away.
Playa El Socorro - Strand , about 5 km away
Original beach with fine volcanic sand: that is Playa Socorro in Los Realejos Bajo in North Tenerife. It is a paradise for waveboarding far from the hustle of mass tourism.
Playa Jardin - Strand , about 11 km away
Playa Jardin in Puerto de la Cruz with palm tree and cactus garden was planned by artist Cesar Manrique. Right behind Playa Jardin beach a small nature paradise with walking paths begins.
Playa de San Marcos - Strand , about 13 km away
Playa de San Marcos lies within a securing, romantic stone bay in the village of Playa San Marcos.
Detailed price information:
If you specify your travel period and give information about your fellow travelers, the correct travel price will be calculated immediately.
Price per night for 2 People

01. Jan
to
31. Dec
1. week per day 1)
103,57€
each additional day
100,00€

1) In the daily price are included:


additional costs of 25,00€
as well as bed linen, hand, bath and
dish towels
Minimum stay

This property can only be booked as from 7 nights.
Arrival and departure possible every day.

Accommodation for additional guests

Child to 2 Years
free of charge
Child to 12 Years
15,00€
additional travellers per person
15,00€

Further charges

Internet
free of charge
Cot
free of charge
1 Pet not available
Possible additional costs on location
Additional costs on location can arise according to use and customer requests. This can include for example a Wifi, child highchair, use of an additional heating or air conditioner, pool/jacuzzi heating or the like. Please find details in the descriptions of the objects.
Feedback-Holiday house w/ beautiful sea view in San Juan de Rambla/ Tenerife north
Feedback from Ingrid from Düsseldorf / Germany, written on 02/15/2015
In a one week vacation, we went to a beautiful place and had everything we needed in this holiday house.
That´s exactly what holiday means for us, it was just beautiful.

The accommodation was beautiful and met my expectations
The property was described well and correctly.
Yes, I would book again with Ferienhaus Canarias

Feedback from Detlev from Neustadt / Germany, written on 08/20/2014
We had an incredible time in this house: the organisation was perfect, the lessors are friendly heartful persons, who housed us like family members. A small stock of useful groceries and some fruits was already in the house. The interior was lovely and three patios offered a great sea view. That the village is not crowded with tourists was the perfection for us. We felt like real guests in a perfect holiday.

Recommendation for the lessors:

- Leave everything exactly the way it is, there is no way to make it any better!!!!

The accommodation was beautiful and met my expectations
The property was described well and correctly.
Yes, I would book again with Ferienhaus Canarias

Feedback from Bruno from Hirzel / Switzerland, written on 03/23/2014
We had a wonderful vacation in that beautiful house with a great family. Thanks so much/ Muchas gracias Bruno+Jacqueline

In a 15 minutes walk along a coastway you will receive San Juan de Rambla. There you can find 3 really good restaurant, with canarian food and fish.

Excursions:
- Anaga Mountains to Benijo and back to San Andreas
- San Andreas has a nice beach with tapas restaurants and umbrellas and sunbeds
- Teide-National-Park
- Masca Valley and the Valley behind the house

The accommodation was beautiful and met my expectations
The property was described well and correctly.
Yes, I would book again with Ferienhaus Canarias

Feedback from Klaus from Landau / Germany, written on 02/13/2013
The welcome from the lessors was incredible. We had already some wine, beer , water and some bread and jam in the fridge, so we didn´t had to hurry for shopping in the first moment. You can´t drive right to the house, so we got some help with the luggage from the car to the house and back.
The house was everywhere spottless clean. We were really sorry that we can´t speak any spanish to thank for the welcome- and goodbye presents they made for us.
We are renting holiday houses and flats already in the last 40 years, but we never felt so comfortable since the first minute like in this housing.
A really really small recommendation I would like to give to the lessors is, that the coffeemaschine is a little bit to small for 4 people, so in case it will brake one day maybe you will buy a bigger one. ;-)

Once again thanks a lot to Marina and Alejandro for this great vacation. Our son and his wife already booked their vacation in august.

Christiane & Klaus Baron, Ute Janczyk-Dahn & Henryk Janczyk

There is a good fish restaurant directly at the prking lot at the ocean in Aguas.
You can choose your fish and tell them how it should be cooked or grilled. The wine of the house is good as well.
On the other side ist little Bodega, the owner is italian, but that is the specialty, she is in spain already 20 years and she offers Tapas in a different way.

The accommodation was beautiful and met my expectations
The property was described well and correctly.
Yes, I would book again with Ferienhaus Canarias

Feedback from Felix from Oberglatt / Switzerland, written on 01/29/2013
We felt like familymembers in that house, the lessors were helpful in every situations, but we never had any problems. We just felt comfortable.

The accommodation was beautiful and met my expectations
The property was described well and correctly.
Yes, I would book again with Ferienhaus Canarias

Feedback from Eva from Solingen / Germany, written on 11/20/2012
The accommodation was better than expected. The equipment and interior was perfect (comfortable, clean, dishes and towels). We especially liked the location at a carfree coastway close to the ocean in that quiet village.
The lessors welcomed us friendly, almost like famly members. We had everything already for a first breakfast and some fruits and wine. Perfect.

We recommend a hike in Guergues, above the masca valley. An astonishing view after hiking up the Lomo de Tablada. Right in La Rambla is no restaurant but in las Aguas are three only 10-15 minutes away and don´t forget you flashlights on the way back afterwards after sunset you will need it.

The accommodation was beautiful and met my expectations
The property was described well and correctly.
Yes, I would book again with Ferienhaus Canarias