Insider tip El Sauzal - north of Tenerife
The community and town El Sauzal is around 300m above sea level and located in the north of Tenerife. It is one of the most beautiful areas on the entire island.
Here you can find your perfect accommodation: holiday flats, holiday houses, finca apartments or a villa. No matter what you look for to spend a relaxing holiday with you partner, family and/or friends, we are sure you will find it.
The town got named after the high amount of pastures in this region. Besides the tourism, the agriculture is the most important economic factor.
In this region you will find many vineyards, fruit plantations, potato fields and grain fields.
The location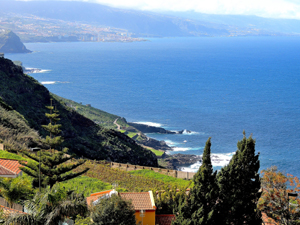 El Sauzal is a quaint village, very maintained, with beautiful examples of the traditional Canarian architecture. From here you haven an impressive view of the landscape down to the coast and the sea. Especially the view to El Puertito is worth the stay.
When you are in El Sauzal you should definitely visit the "Casa de Vino de Baranda", which is a more than 400 years old manor. Holiday makers from all over the world get here to visit the vine-museum. Another sight you should visit during your stay in El Sauzal is the church "San Pedro". The "Parque de los Lavaderos" belongs to the church and is right next to it. These places are worth a visit and are good to relax and to enjoy the quiet. Also the city hall is fast to reach.
Activities in the area of El Sauzal:
Surfing near Mesa del Mar
Seawater swimming-pool in Mesa del Mar
Sight:
Vine-museum Casa La Baranda
Honey-museum Casa de La Miel
Platé - banana-vine manufacture