TF0290
Tenerife South - holiday house with pool by the sea in Playa San Juan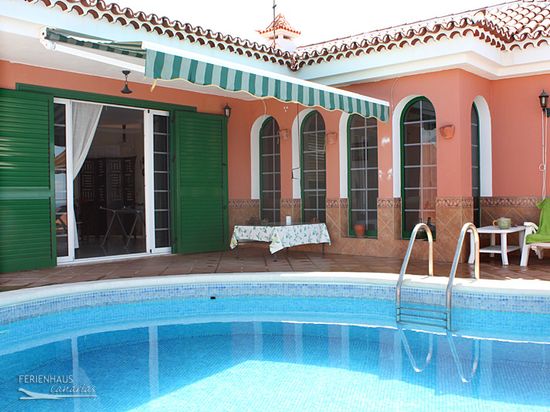 1. week: price/day from
157,00€
/ 2 pers.
Each additional day from
133,00€
/ 2 pers.
Tenerife south Playa San Juan
2 bedrooms + 2 bathrooms
Occupancy up to 5 People
Living about ca. 120 m²
Minimum stay: as of 7 nights
Private pool
Internet
SAT-TV
Washing machine
Cot
Barbecue
Property description
The holiday house with private pool and two bedrooms is located in the sunniest climatic zone of Tenerife, in Playa San Juan, directly at the seaside.
Playa San Juan is a fishing town between Las Américas and Los Gigantes. The unspoilt centre of the town around the plaza (square) and down at the seaside is preserved, although it has been growing over the course of time.
Here in Playa San Juan you spend your holidays partly with the locals and their way of life, e.g. in shops, by the sea and during the traditional "fiestas" (parties). In the town itself there is less tourism, you only meet a few German or English tourists.

Restaurants, several shops, a beach and a small port are nearby. Enjoy walks along the promenade. There are also playgrounds for children. At the port, you can make an excursion to Los Gigantes, where you could, with a bit of luck, watch a variety of dolphins.
The holiday house is situated in the new part of Playa San Juan, in a quiet residential area.
Holiday house with stylish furnishings
Best climatic zone of the island
Large terrace with private pool and BBQ corner
Directly by the sea
Washing machine and own garage
Path to the town centre directly in front of the house
1 cot available
Wifi
Features
Living room:
Internet
Television
German TV programs
SAT-TV Satelite
Sofa bed
Kitchen:
Coffee machine
Toaster
Electric kettle
Oven
Stove with 4 plates
Fridge
Freezer
Dishtowels
Bedroom:
Double bed
2x Single bed
Cot on request
Bed linen
Bathroom:
Shower
Bidet
Hand / bath towels
Motto/ suitable for:
Children welcome
Family holiday
Beach holiday
Outdoor facility:
Private pool
Barbecue
Terrace
Garden furniture
Sun lounger
Sea view
Generally:
Washing machine
Public parking
Equipment
This beautiful and detached holiday house has spacious rooms with panoramic windows and big terrace doors in the living room. Here you can relax and enjoy your holidays. From the terrace, the living room and the kitchen you have a wonderful view of the sea. Enjoy the view and the sunset over a cool drink at the private pool.
The spacious living room with two sofas and divers accessories give you a special feeling of being comfortable.
The holiday house has two bedrooms. One with double bed and the other one with two single beds.
The one with double bed has a bathroom en suite with shower, wash basin, bidet and WC. The other bathroom has also shower, washbasin and WC.
In the kitchen of the modern furnished holiday house, you find everything you need for cooking (such as: toaster, coffee machine, kettle, 4 ceran hotplates, stove, fridge/freezer), and also a dining table for 5 people, as well as towels and bedlinen.
The big terrace of about 180sqm next to the pool offers also a BBQ corner, seating group and 4 sun loungers. The terrace has a U-shape, so you have sun for almost the whole day. Furthermore, the terrace is not visible. Enjoy your holidays directly at the seaside, with privacy.
Note:

This great location directly at the ocean with this astonishing view has one negative aspect we would like you to know previously. The high tide let the waves slop into the underground caves, these waves can be felt and heard in the holiday apartment.
Nearby beaches
Playa San Juan has a new beautiful sandy beach which is only about 400m away from the holiday house.
Detailed price information:
If you specify your travel period and give information about your fellow travelers, the correct travel price will be calculated immediately.
Price per night for 2 People

01. Jan
to
31. Dec
1. week per day 1)
155,57€
each additional day
133,00€

1) In the daily price are included:


final cleaning in the amount of 1 daily rent
additional costs of 25,00€
as well as bed linen, hand, bath and
dish towels
Minimum stay

This property can only be booked as from 7 nights.
Arrival and departure possible every day.

Accommodation for additional guests

Child to 2 Years
free of charge
Child to 12 Years
12,00€
additional travellers per person
24,00€

Further charges

Internet
free of charge
Cot
free of charge
1 Pet not available
Possible discounts:
Last minute discount 5% in case of booking from 0 days before arrival valid between 01/21/2017 and 02/11/2016
Possible additional costs on location
Additional costs on location can arise according to use and customer requests. This can include for example a Wifi, child highchair, use of an additional heating or air conditioner, pool/jacuzzi heating or the like. Please find details in the descriptions of the objects.
Tenerife South - holiday house with pool by the sea in Playa San Juan
Feedback from Dieter Lorsch from Lorsch / Germany, written on 04/23/2015
The location of the house is gorgeous, the pool great (a bit chilly). Even with little waves you realize that in/ at the house.
Antonio was very nice, unfortunately we can almost no Spanish.
We'll be back someday .

Tip: In Adeje delicious ' Pollo ' food and Wed/ Sat/ Sun market !

The accommodation was beautiful and met my expectations
The property was described well and correctly.
Yes, I would book again with Ferienhaus Canarias

Feedback from Beate & Armin from Herrenberg / Germany, written on 08/17/2014
That was our second consecutive year in the great house in Playa San Juan - and straight away - next year is already booked! That says it all out - right? We love this beautiful home. The location is just unique. From the terrace you have almost a full sea view. Directly opposite Gomera and this year we have (slightly to the right of Gomera) first seen now and then La Palma. This year Dolphins are swum in front of our house. From the landlord we were very friendly welcomed like last year and were even given a bottle of champagne for his birthday gift of my husband. That the house rather wobbles when the tide enters, we knew already. While it was reconnected again this year with some familiarisation, but then it is no longer a problem.

Each year (this was our 5th overall holiday in Tenerife), we discover something new. This time we are simply driven quite a lot of small streets towards the sea, without knowing what to expect and often have a beautiful bay or a dreamy place discovered. Really great was the helicopter flight for my husbands birthday. The island can be seen from above is very impressive. The company offers several flights from Adeje. And the ice cream parlor operators in the parallel street to the house is recommended. To eat good fish with a nice view, we can recommend the San Juan "Marlin" right on the harbor/ beach of Playa. It is the last in the series. Therefore, the staff speaks almost no English but that value for money is great and the food was delicious. And who likes to eat chicken or rabbit, which must necessarily take into Otelo (Calle los Molinos, 44, 38670 Adeje). There "perched" the restaurant high above the Barranco del Infierno with a magnificent view of the gorge and the sea. The chicken are fried in a special garlic crust and for two people, you pay only 20 euros incl. Drink and salad. Delicious. There is this also a sister restaurant right on Playa Fanabe with exactly the same card. We could go on writing endlessly here, because there is so much to see in Tenerife. Sometimes it is really hard to decide whether you prefer to relax on the beautiful terrace or explore the island. That's why we come again and again. We wish everyone a lot of fun in this great house!

The accommodation was beautiful and met my expectations
The property was described well and correctly.
Yes, I would book again with Ferienhaus Canarias

Feedback from Silke from Remscheid / Germany, written on 05/31/2014
We were expected by the owner of the house. We knew since the previous reviews that Mr. Dorta only speaks Spanish, we have come up in the run-up to important questions translated and then shown him the note. So worked the translation by list, as well as hands and feet. The house corresponded almost exactly to the photos on the website. Inside the house everything was to find what was needed. The house itself was handed over to us very clean, however, there is here and there minor renovations needed at the house, but this function is not impaired. We felt in the house very well and enjoyed the terrace with the pool and the stunning views. When there was a small problem in the house, Mr. Dorta was within 30 minutes at the house and fixed the problem.
From the previous reviews we knew, that the house depending on the swell tremors are felt. It must be said, these vibrations are felt quite clearly, so we were the first few nights on several occasions awake. After a few days you get used to it.

Apart from the really very beautiful house we loved Playa San Juan. There are in this small fishing village a lot of very good restaurants. To be mentioned are here San Juan Creativo on the Plaza de la Iglisia. The food here is really excellent and the service tremendously warm and friendly. Also highly recommended is the La Marina in the Av. Juan Carlos. There really fresh fish which you can choose from a refrigerated display case. Those who like fish should eat here. Highly recommended is also the Jamon Jamon in the Av. El Emigrante. There is a grill restaurant and a tapas restaurant, in which are Sundays Flamenco shows. Both very nice, we found the tapas restaurant but a bit better.
A must to Tenerife is of course the Teide. Just great. If you are traveling with children you should go to the high ropes course in Anaga mountains: we all had (big and small) a lot of fun there. Also nice is the Children's Science and Cosmos Museum in Santa Cruz. Loro and Siam Park should not be missed.
All in all, Tenerife enormous amount to see, and even though we were on the road all day long, we have not done anything in 12 days. We'll definitely be back.

The accommodation was beautiful and met my expectations
The property was described well and correctly.
Yes, I would book again with Ferienhaus Canarias

Feedback from Hans from Baltmannsweiler / Germany, written on 05/15/2014
We were greeted by the owner Mr Dorta warm and very friendly. Despite our few Spanish knowledge the communication worked well. Even with handover at the end of the rental period Mr. Dorta was very accommodating.
The location of the house right on the sea is unique. The clearly noticeable especially at high tide waves vibrations are a little getting used to. But after a few days and nights, we got used to it.
The house with bed linen, towels etc. equipment was very good.
The San Juan is only a little touristy and therefore represents a welcome contrast to Las Americas and other tourist strongholds. For daily needs you will find everything at the site as well as some pretty good restaurants.

Tenerife is known from many holidays and we still find new things. Holidays can make varied on the island, in addition to beach holiday there are many excursions or hikes. The prerequisite is, in our view, a rental car.

The accommodation was beautiful and met my expectations
The property was described well and correctly.
Yes, I would book again with Ferienhaus Canarias

Feedback from Michael from Weyhe / Germany, written on 04/06/2014
We were very friendly welcomed from Mr Dorta. Because we don´t speak Spanish, communication was a bit difficult. The house is wonderful and met our notions. The overlooking of the sea from the terrace was simply great. The rumble from the sea under the house was already known, so that was no problem. It was for us certainly a very nice holiday.

In Playa San Juan are plenty of small restaurants where is something for everyone ascdelicious food. We can recommend also the bakery, delicious baguettes, buns for breakfast and much more, it is located right next to Movistar.

The accommodation was beautiful and met my expectations
The property was described well and correctly.
Yes, I would book again with Ferienhaus Canarias

Feedback from Martin from Alfeld / Germany, written on 11/12/2013
Owner was very nice, but unfortunately the communication was almost impossible, because he only speaks Spanish.
The partly existing sounds from the sea were used to, but in the two weeks we went there.

The Teide is well worth a visit, even if the ride up now costs 25 euros per person. Be sure to be there early in the morning (just before 9 clock), then avoids queuing.

The accommodation was beautiful and met my expectations
The property was described well and correctly.
Yes, I would book again with Ferienhaus Canarias

Feedback from Beate from Herrenberg / Germany, written on 06/30/2013
The house is beautiful and well equipped. The large terrace and the pool invites you to linger very naturally. Especially we enjoyed the direct views of the Atlantic Ocean and the permanent sound of the sea. During a every moring 5 dolphins are also swum directly in front of our terrace. That was a very beautiful moment. In heavy sea passage the house gets really strong shocks, that is something you have to get used to it at night, during the day we took them barely noticed, even though they are no less strong there. From the landlord we were very warmly welcomed. As we arrived on a sunday, he gave us some food for the first breakfast and welcomed us with fruit and a delicious bottle of wine in the fridge. We speak a little Spanish, so that the first agreement has worked well. When it was a slightly bigger problem, could help out his daughter, who is fluent in English. All in all, we were looked after by the landlord super couple.

We are already the fourth time in a row in Tenerife and always find something nice to look at. If you like eating fish, which is served at our favorite restaurant "El Pescador" below the hotel Villamar on the beach promenade in San Eugenio super. The mixed fish platter (almost 16 euros) is amazing and the service was really great. Car hire is recommended. Excursions should necessarily go to the Teide National Park. Also, the North has a lot to offer such as Puerto de la Cruz. We always like to Icod de los Vinos and watch the dragon tree, and on the way the natural pools in Garachico. There are on the island so much to see and do that would be a shame to always lie on the beach. The beach of Playa San Juan is actually easily accessible in less than 10 minutes walk and along the way there are many small nice places. Especially delicious is the ice of the ice cream parlor "Opera", which has just removed a street from the house. (When approaching the house you go directly past it - right side) We are already eagerly anticipating the next year, because then we are back in the house and in Tenerife.

The accommodation was beautiful and met my expectations
The property was described well and correctly.
Yes, I would book again with Ferienhaus Canarias

Feedback from Marianne from Wien / Austria, written on 05/04/2013
We enjoyed the great location of the house very much. The house was very good equipped. Nothing was missing, we were immediately feeling comfortable. Bathrobes were avalable. Nice pool!
Waves leave the house vibrate at certain hours, which you get used to, however.

Teide is well worth a trip ! Incredibly this lunar landscape.

The accommodation was beautiful and met my expectations
The property was described well and correctly.
Yes, I would book again with Ferienhaus Canarias

Feedback from Angelika from Poing / Germany, written on 02/25/2013
The location of the house is unique; the view is really fantastic. The leading past the house on foot does not bother. The house is located in a very quiet residential area and not far from the beach. We were greeted very friendly; the handing over of the house was on time and as agreed. The house is really well equipped; we were not miss anything. Mention might also be added that also bathrobes are available. Especially the grill on the large and beautiful terrace, we have used extensively. Besides the sunsets even breakfast on the terrace overlooking La Gomera is really nice and if the weather is not so inviting, you can also have a wonderful sea view from the kitchen and the living room. Only disturbing were actually the vibrations at the house, which - especially caused at flood. You really have to get used to it.

Playa San Juan is a very nice resort - still away from mass tourism. There were plenty of good restaurants.
However, our favorite restaurant is not in Playa San Juan, but in Chio:
Restaurant "El Rancho", Chio. There is also a souvenir shop, where you find holiday souvenirs.
For hiking in Tenerife two recommendations: rother-hiking guide Tenerife from Klaus and Annette Wolfsperger (with GPS tracks) and http://www.mundi-roth.de

The accommodation was beautiful and met my expectations
The property was described well and correctly.
Yes, I would book again with Ferienhaus Canarias

Feedback from Manfred from Erkelenz / Germany, written on 12/06/2012
Its location is unique, the vibrations in the house in heavy seas, also sometimes at night is something you has to get used to.
A solar heating for the pool, the water was at about 20-21° quite refreshing, would be highly recommended.
The reception was very friendly, unfortunately, neither the owner nor its cleaning employees speaks a word of english, which could be problematic if there were even problems with the house.
The decor and cleanliness of the object was impeccable.

The accommodation was beautiful and met my expectations
The property was described well and correctly.
Yes, I would book again with Ferienhaus Canarias

Feedback from Kerstin from Biberach / Germany, written on 02/07/2012
Very beautiful facility with great view.

The accommodation was beautiful and met my expectations
The property was described well and correctly.
Yes, I would book again with Ferienhaus Canarias

Feedback from Alfred from Karlsruhe / Germany, written on 01/16/2012
Dream-like location, amazing view on the sea and a spectacular sunset every evening. What more can you ask for? We really liked the new, comfortable seating area in the livingroom. The next stay in this house is already booked! The landlords are very friendly.

The seafood restaurant Casa Mon in Alcala is excellent! Local specialties and homemade jam can be bought in Chio at Delicias del Sol.

The accommodation was beautiful and met my expectations
The property was described well and correctly.
Yes, I would book again with Ferienhaus Canarias

Feedback from Peter from Karlsruhe / Germany, written on 10/29/2011
Quiet location. Great view on the ocean and La Gomera. Shopping possibilities, beach, pubs are within walking distance.
House well-furnished.

The accommodation was beautiful and met my expectations
The property was described well and correctly.
Yes, I would book again with Ferienhaus Canarias

Feedback from Dagmar from Friesenheim / Germany, written on 08/29/2011
The sea view is breathtaking and you can enjoy the sunset every evening.

The accommodation was beautiful and met my expectations
The property was described well and correctly.
Yes, I would book again with Ferienhaus Canarias

Feedback from Martin from Wiesenfelden / Germany, written on 08/10/2011
Very spacious object. Premium and ample / fully equipped (more than enough towels, excellent kitchen equipment). Great terrace furniture. Great location (very quiet and by the sea).

Everything was alright.

The accommodation was beautiful and met my expectations
The property was described well and correctly.
Yes, I would book again with Ferienhaus Canarias

Feedback from Dietmar from Einhausen / Germany, written on 08/03/2011
Very beautiful, neat house. Very well-furnished and equipped. Caring landlord, he brought us home-grown mangos from his private garden. Its location and the pool by the sea make this house an extraordinary place.

Unfortunately Barranco del Infierno is closed due to falling or fallen rocks. Please mention this in your travel advices.

The accommodation was beautiful and met my expectations
The property was described well and correctly.
Yes, I would book again with Ferienhaus Canarias

Feedback from Dietmar from Rattiszell / Germany, written on 05/04/2011
We were happy with the location of the cottage and the equipment.
The house was all very tasteful, clean and well maintained.
The assistance before and during the trip was perfect, Gabriella was a very nice contact.
The terrace with pool and sea view was at its best.

The accommodation was beautiful and met my expectations
The property was described well and correctly.
Yes, I would book again with Ferienhaus Canarias

Feedback from Gisela from Geyer / Germany, written on 04/06/2011
The holiday house in this amazingly calm location in combination with the unique sea view was a charming experience. We more than enjoyed the daily swimming in the beautiful pool. The furnishing basically was good, but the small bathroom is in need of improvement. A special thanks goes to Mrs. Gabriele, who took care of us very well.

The accommodation was beautiful and met my expectations
The property was described well and correctly.
Yes, I would book again with Ferienhaus Canarias

Feedback from Bernhard from Sollenau/Maria Theresia / Austria, written on 03/19/2011
We have spent a beautiful and unforgetable week in this very neat and clean holday house. Mrs. Gabriela wasn´t only the translator between the owner and us, but also she was very helpful! Due to its location in a housing estate, it was very calm at night. Also during the day there wasn´t any noise nuisance. Already during breakfast on the terrace we had the rare chance to watch a group of dolphins playing in the sea. The vibrations of the house due to the waves have been a little bit unfamiliar during the first night, but didn´t bother us at all for the rest of our stay.
There is a path passing the holiday house which leads to the small fishing village San Juan, where you can have excellent food. The next time we come to Tenerife we will certainly try to book this house again.

The accommodation was beautiful and met my expectations
The property was described well and correctly.
Yes, I would book again with Ferienhaus Canarias

Feedback from Michael from Traunstein / Germany, written on 03/02/2011
The hosue was beyond our expectations concerning location and equipment.

The accommodation was beautiful and met my expectations
The property was described well and correctly.
Yes, I would book again with Ferienhaus Canarias

Feedback from Monika from Wien / Austria, written on 02/01/2011
Dear Team of Ferienhaus Canarias,
the house completely answered our expectations, This place is beyond beautiful. The house, especially the kitchen is almost equipped too well (if that is possible).
A tiny black mark are the vibrations of the house during the night due to the waves, but you get used to it. A special thank you goes to Gabi for the friendly support. We will certainly come back to this beautiful place one day.
Best wishes from Vienna
Monika & Andreas

The accommodation was beautiful and met my expectations
The property was described well and correctly.
Yes, I would book again with Ferienhaus Canarias

Feedback from Harald from Nürnberg / Germany, written on 11/01/2010
A holiday house in ideal location by the sea. When we arrived, a clean and perfectly prepared house expected us. Thanks again to Gabriela, who was helpful anytime and lent us her support by translating.
The Spanish owner welcomed us with a fruit basket (home-grown!!!), a well-stocked fridge and a barbecue invitation at his finca. Alltogether Gabriela as well as the owner have been endeavoured to make us feel like home (and it more than worked).
The quiet place Playa San Juan is the ideal starting point for individual travellersn to explore the amazing westen part (Masca) and the centre of the island (Cañadas). It is almost always sunny around Playa San Juan, even if the wheather in other parts of the island isn´t that charming. From the terrace mostly hidden from view you have a great view over the sea all the way to La Gomera. The spatial proximity makes the impression of sitting on a boat. With the help of the spy glass which is in place, it is possible to watch the pilot whales lying between Tenerife and La Gomera. Looking towards west-north-west half way to La Gomera. We have been guided by the whalewatching boats, that stayed in this region in the afternoon.

You absolutely have to hike through the labyrinth of Masca valley and, of course, also explore the unique Cañadas.

The accommodation was beautiful and met my expectations
The property was described well and correctly.
Yes, I would book again with Ferienhaus Canarias