Finca with 2 apartments and 1 house in Tenerife north
Dieses Objekt ist derzeit nicht buchbar.
Nachfolgenden sehen Sie einige Alternativen!
Wooden House - El Sauzal
4 People
42 m²
from 37,00€


Holiday house Los Realejos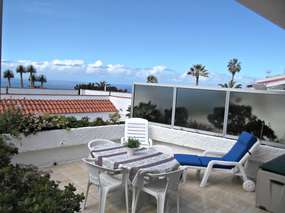 4 People
80 m²
from 40,00€


Romantic house Icod de los Vinos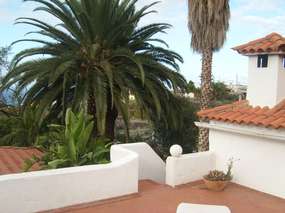 3 People
45 m²
from 47,00€


Private house with pool La Laguna
2 People
70 m²
from 53,00€


Guest House sea view & privat pool
4 People
70 m²
from 55,00€


Bungalow with private pool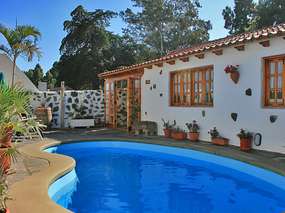 4 People
80 m²
from 55,00€


Holiday House Piedra
7 People
80 m²
from 55,00€


La Esperanza - holiday house 3
2 People
48 m²
from 55,00€


6 Pers. Finca El Sauzal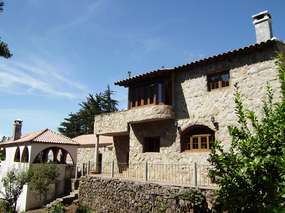 6 People
150 m²
from 55,00€


Property description
Canary, rustic style
Community pool (3,5x4m) and sun deck
Starting point for hiking tours
Fitness room, BBQ, party room
Washing machine
Parking space
1 cot available
Bed linen, towels, tea- and bath towels are available
A hired car is absolutely necessary.
The finca in typical Canary style with 2 apartments and a house in Valle Guerra, ca. 330m above sea level, for 2 to 8 people is in the green north of Tenerife.
Only 400m away from the finca, there is the museum "Museo de Antropología" which is really worth a visit.
The capital Santa Cruz or the popular holiday town of Puerto de la Cruz are quite close (20min by car).
San Cristóbal de La Laguna has a beautiful old town and beaches. La Laguna has been made world cultural heritage by the UNESCO.

The finca is an ideal starting point for hiking tours and walks. It is suitable for families and group travel.
The finca is run by solar energy (hot water, light etc.).
Equipment
The finca consists of 2 apartments with 1 bedroom each and a house with 2 bedrooms.
It has a community pool (7x5m) with sun deck, sun loungers and garden furniture.
BBQ and a separate party room with terrace are at your disposal, too. From the terrace, you have view of the pool.
The property of the finca has 2800m² with beautiful gardens, flowers, trees and palms.
Furthermore, there is a fitness room on the finca with tread mill, home exercise kit and dumb-bells.
Nearby restaurants and shops
A restauran and a bar, as well as a small supermarket are 400m away from the finca.
Nearby beaches
Playa del Arenal in Bajamar is ca. 8km away. Another beach is Playa El Pris.
accommodation details
This offer contains the following accomodations, all of which can be rented individually as well.
Apartment 1
2 People
50 m²



Apartment 2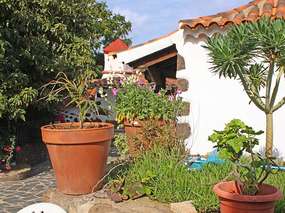 2 People
50 m²



Holiday house Valle Guerra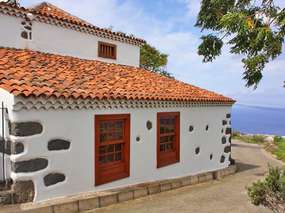 4 People
75 m²