TF0382
Inexpensive holiday apartment: sea view, close-by beach
Tenerife south Poris de Abona
2 bedrooms with bathroom
Occupancy up to 4 People
Living about ca. 80 m²
Minimum stay: as of 6 nights
Community pool
WiFi / Internet
Satellite TV
Washing machine
Cot
Lift
This property isn´t available anymore!
The following properties might be a nice choice as well!
Bungalow at the sea - El Poris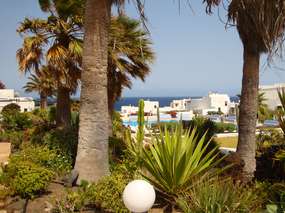 3 People
58 m²
from 38,00€
Flat 2 bed rooms close to the beach
4 People
55 m²
from 39,00€
Apartment at the seaside pool Poris
5 People
75 m²
from 49,00€
Seaside apt. - directly at ocean
4 People
60 m²
from 49,00€
Flat by the sea Poris de Abona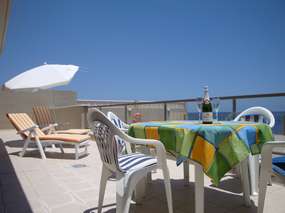 5 People
80 m²
from 49,00€
Seaside apartment Poris de Abona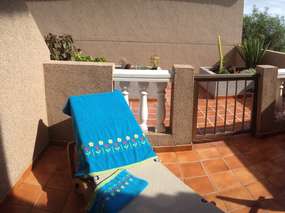 5 People
75 m²
from 49,00€
Seaview apartment 2
5 People
70 m²
from 49,00€
Apartment with pool & sea view
4 People
75 m²
from 49,00€
Apartment south coast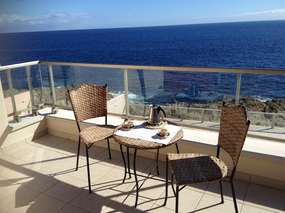 4 People
75 m²
from 49,00€
Property description
Inexpensive holiday apartment in Poris de Abona by the beach on the top floor of a 6-storey-house with 2 lifts. Several beaches are close-by. A pool comes with the complex. Due to its central location Poris de Abona provides everything it needs for an active holiday, e. g. diving, hiking, mountaineering, biking, tennis, golf, paragliding.
One min to the beach
Beautiful pool area
Sea view
Towels and bedding available
1 cot available
A hired car is recommended, but not absolutely necessary.
Equipment
The apartment has 2 bedrooms (one with double bed, one with single bed, another bed is available on request), a shower bath with 2 sinks, living room with access to the spacious furnished terrace, kitchen with oven, coffee machine etc. From the terrace you will also enjoy an amazing view on the Teide, Spain's highest mountain.
Nearby beaches
Close-by beach.
Playa de Abades - Strand , about 6 km away
The beautiful sand beach Playa Abades is situated on the South coast in the village Abades with several private holiday houses and fincas.
Feedback - Inexpensive holiday apartment: sea view, close-by beach
Feedback from Christof from Bad Gastein / Austria, written on 04/13/2012
Beautiful view and furnishing, friendly landlords, clean property.

Teide during sunrise, climbing in the canyons

The accommodation was beautiful and met my expectations
The property was described well and correctly.
Yes, I would book again with Ferienhaus Canarias

Feedback from Dorothea from Ulm / Germany, written on 10/08/2011
We liked the holiday apartment very much. We have been very satisfied with the neat, clean and spacious apartment as well as the very friendly landlords.
Once more, we want to thank the landlord for the great care and the many advices concerning markets and destinations.

Our personal Tenerife advice: In case you want to spend a great day on Teide, go there as early as possible, so you can take the first gondola at 9 am. Leaving Teide at 12 o´clock means that you can already swim in the Atlantic Ocean in the afternoon.
But: Don´t get distracted by the warm temperatures by the sea because it can be really, really cold up at 3,100 metres on Teide.

The accommodation was beautiful and met my expectations
The property was described well and correctly.
Yes, I would book again with Ferienhaus Canarias